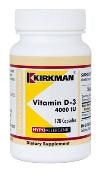 Nearly a third of the world's population suffers from vitamin D deficiency.
Portland, OR (PRWEB) November 01, 2013
Kirkman® will be posting educational information about vitamin D all day on Nov. 2, in celebration of World Vitamin D Day. This one-day event gives participants a chance to learn about the worldwide vitamin D deficiency epidemic and receive the tools necessary to take action.
Nearly a third of the world's population suffers from vitamin D deficiency. Researchers in almost every medical discipline are finding that vitamin D may have a role in preventing, mitigating or treating disease. Conversely, researchers say that vitamin D deficiency may cause a wide range of health problems.
Over the last year thousands of studies have shown that vitamin D has positive effects on health conditions such as certain cancers, cardiovascular disease, hypertension, coronary artery disease, diabetes, Parkinson's disease, depression, Alzheimer's disease, autism, fibromyalgia, periodontal disease, chronic pain, muscular dystrophy, and more.
With all that is known about vitamin D's benefits, it is of the utmost importance to understand what is considered vitamin D deficient and how to reach on optimal vitamin D level. Detection is easy and can be done with a simple at home blood spot testing kit. The test is minimally invasive and takes just the prick of a finger to discover a person's vitamin D levels.
Vitamin D can be found in nature through direct exposure to sunlight and in food such as fatty fish, like salmon and tuna, dairy products and cereals fortified with the vitamin. However, when it is not readily available, like in the darker winter months, supplementation is a good way to maintain an ideal vitamin D level.
Kirkman®, a manufacturer known for the purity of its nutritional supplements, offers a wide range of vitamin D supplements including a 4000 IU capsule and vegan vitamin D.
Using Kirkman's Ultra Tested® protocols each product is tested for 950 environmental contaminants. Including 24 heavy metals, bacteria, yeast, mold, common allergens, pesticides including fungicides, insecticides, herbicides, biocides, endocrine disruptors and other potentially harmful chemicals.
No other nutritional supplement company in the world tests its products for purity more thoroughly than Kirkman® does. Kirkman® believes that this degree of testing is necessary to assure customers that their nutritional supplements are pure and safe to take.
Join Kirkman® on Facebook, Twitter, LinkedIn and Pinterest Nov. 2 to be part of the vitamin D conversation or visit our website to order supplements today.
About Kirkman®
Kirkman® is the leading manufacturer of nutritional supplements for individuals with special sensitivities and dietary requirements. Founded in 1949, Kirkman® is also the oldest nutritional supplement company serving the special needs community. This experience has allowed Kirkman® to pioneer effective products in many areas of nutritional supplementation for individuals with special health needs. To learn more about Kirkman®, visit the company website at http://www.kirkmangroup.com.
Contact:
Kulani Mahikoa
V.P. Marketing
Kirkman Group, Inc.
Telephone: 503-694-1600