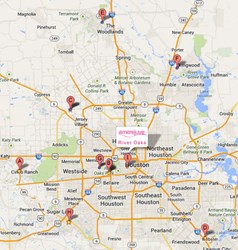 Amerejuve's growth from one location three years ago to 10 locations now is amazing and speaks for the amazing team behind it. We are pleased to be the leading provider of medspas and esthetic care serving Houston.
Houston, TX (PRWEB) November 04, 2013
Amerejuve MedSpa and Cosmetic Surgery announces the Grand Opening of Amerejuve River Oaks will be Dec. 5th from 10 a.m. to 3 p.m. The Grand Opening will feature one-day-only event pricing on laser hair removal, CoolSculpting, Vaser SHAPE, VelaShape, Botox, Dysport, Juvederm, Restylane and Perlane, as well as light refreshments, and giveaways.
Amerejuve River Oaks is located at 1934 W. Gray, Ste 201.
"Amerejuve's growth from one location three years ago to 10 locations now is amazing and speaks for the amazing team behind it. We are pleased to be the leading provider of medspas and esthetic care serving Houston," said Dr. Morteza Naghavi, the founder, president and CEO of Amerejuve. "Our team is looking forward to expanding Amerejuve's cutting edge esthetic and wellness services to other cities in Texas."
Manager Alda Patino said she takes great pride in helping clients look good, feel good, and increase their confidence.
"Helping people achieve that is what drives me," she said. "It's rewarding to see how people transform."
Patino said Amerejuve services can have a huge change on a person's appearance and outlook, whether they choose a simple microdermabrasion to brighten and refresh their skin to body contouring to noninvasively remove extra inches to the many other services available.
"I love getting [medspa] services myself," she said, noting she's not only knowledgeable about Amerejuve services, but she can discuss many of them from personal experience.
Patino is joined at the River Oaks location by Amber Black, a nurse injector who specializes in injectables such as Botox and Juvederm as well as other procedures.
Black believes in treating the whole person, and says one of the most important parts of her job is listening to her patients.
"I take the time to get to know the person and I listen to them. I listen to where they're coming from," she said. "[I] enable them to feel good not only with the procedure provided, but they'll really feel good about themselves and where they are in the journey of their life."
Black's background also includes nutrition, fitness, surgical technology, and a number of aesthetic procedures. She's also board certified with the AADP. Having gone through difficult medical situations in the past, she sees it as vital to educate and inform others about caring for themselves inside and out. Black said it's key to learn each person's specific needs and goals to determine the best way to achieve them, whether through a single procedure or a system of treatment.
"[They can] trust me to explain to them the differences between procedures and why one is going to be a better procedure for them than another," she said. "It's all about being informed and educated."
Black is also active in autism awareness and is an award winning competitor in figure competitions, a type of body building competition. She strives to use these activities as platforms to build the wellness and confidence of others.
Amerejuve River Oaks is open Monday through Saturday and offers free consultations on their wide array of aesthetic services. Patino, Black, and the entire Amerejuve River Oaks staff look forward to serving the community.
About Amerejuve MedSpa and Cosmetic Surgery:
Amerejuve MedSpa and Cosmetic Surgery's innovative approach to wellness combines beauty, science and service to fit each client's goals, whether that means esthetic services that are preventative or restorative (correction, reduction or enhancement). Amerejuve's full line of beauty services, which include laser hair removal, body contouring and cellulite reduction, lip enhancement, facial contouring, wrinkle removal, sun spot removal, acne scare repair, and cosmetic surgery, is unparalleled in the medspa industry, and all services are available at affordable prices. Amerejuve is also the only medspa in Houston that offers customer service to clients 24 hours a day, seven days a week via phone or through their website.
With so many locations throughout the Greater Houston Area, Amerejuve has become Houston's number one provider of laser hair removal, cosmetic and non-surgical skin treatments. Medspa services include BOTOX®, RADIESSE®, Restylane®, JUVÉDERM®, ReFirme™, LATISSE®, VelaShape™, CoolSculpting by Zeltiq®, Zerona®, VASER® Shape, Bella Contour, Ultherapy® non-surgical facelift, eMatrix® skin resurfacing and rejuventation, Sciton skin resurfacing, cellulite and circumferential reduction, laser-based skin rejuvenation, skin tightening, microdermabrasion, IPL Photofacial treatments, and chemical peels, all available at Amerejuve's ten state-of-the-art facilities with locations in Galleria, Memorial, River Oaks, Dunvale, Sugar Land, Katy, North FM 1960, The Woodlands, Kingwood, and Clear Lake. Amerejuve's board certified cosmetic surgeons also perform breast augmentation, breast lifts, breast reduction, rhinoplasty, abdominoplasty (tummy tuck), face lifts, eyelid lifts, brow lifts, liposuction, and more.
To schedule a free consultation at any of the ten Amerejuve locations, please call (713) 960-6262 or visit them on the web at http://www.amerejuve.com.
Amerejuve can also be found on Facebook (http://www.facebook.com/AmerejuveMedSpa), Twitter (http://www.twitter.com/AmerejuveMedSpa), Pinterest (http://www.pinterest.com/AmerejuveMedSpa) and YouTube (http://youtube.com/Amerejuve).
About Amerefit:
Amerefit is the name of Amerejuve's personalized weight and wellness services. The Amerefit weight management program is tailored to a client's specific metabolism, diet and exercise genes, food preferences, and cardiometabolic profile. The program utilizes advanced metabolism measurement, genetic testing, and cardiometabolic testing to complete a comprehensive assessment before designing a personalized weight management program for each client. Amerefit also provides effective metabolism-boosting formulations (RedCapsule365 and B12 MetaBoost injection), body activity tracking, and e-coaching motivational tools. Amerefit coaches support clients throughout the program, monitoring progress and providing accountability and encouragement to enable clients to make healthy, long-term lifestyle changes. Amerefit wellness services include food sensitivity testing, nutritional counseling, a basic wellness assessment including blood and saliva testing, B12 injections and energy boosting, and more.
To learn more about Amerefit, visit http://www.amerefit.com or call (713) 781-7332.
Amerefit can also be found on Facebook (http://www.facebook.com/Amerefit) and Twitter (http://www.twitter.com/amerefit).
Media Contact
Kelsie Cleboski
832-589-1436