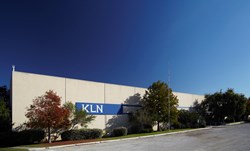 The implementation of abas-ERP will help streamline their already lean-manufacturing processes, and encourage further growth. - Alan Salton, President, abas-USA
Sterling, VA (PRWEB) November 01, 2013
abas-USA is pleased to announce that KLN has chosen abas Business Software as their new ERP provider.
KLN Manufacturing, LLC has been providing high-quality custom furniture to student housing facilities and military installations around the globe for over 40 years. With a focus on green manufacturing, they continue to provide sustainable high-quality furniture to their clients.
After researching 13 ERP vendors, KLN selected abas-ERP for its flexibility and ability to match their workflow. The transition to abas-ERP from their old system will eliminate the need for duplicate entry and improve visibility, reducing the possibility of human error.
According to Alan Salton, President of abas-USA, "With a growing company like KLN, flexibility and ease of use are paramount. KLN's commitment to superior customer service means their people need to have any relevant information regarding customers or orders. The implementation of abas-ERP will help streamline their already lean-manufacturing processes, and encourage further growth."
About ABAS:
Founded in 1980, ABAS is a leading provider of cost-effective ERP solutions for midmarket manufacturers and distributors. abas Business Software is an ERP & eBusiness application designed specifically for distributors and manufacturers in the Assemble-to-Order, Make-to-Order and Engineer-to-Order environment. Our software is priced to fit most budgets while delivering full ERP functionality. Operating on LINUX, SAAS and Windows, abas Business Software has the flexibility, scalability and ease of use that has demonstrated consistent ROI to its customers. The abas solution includes mobile apps, eBusiness, CRM, Document Management, BI and a complete ERP solution.
About KLN:
KLN Manufacturing is a San Antonio, Texas, based firm exclusively engaged in the manufacture and marketing of high quality furniture for multi-person housing facilities and Packaged Services for Federal Government offices and dormitory facilities. We're committed to manufacturing our products in the USA. When you purchase KLN furniture, you're investing in your student housing program, the men and women serving our country, and the Earth.
MEDIA CONTACT:
Ashely Holler, Marketing Manager
ashleyholler(at)abas-usa(dot)com
703-444-2500
Karen Cook, Marketing Manager
kcook(at)avteqinc(dot)com
1-800-285-8315