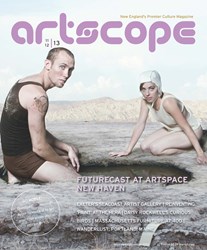 Function and form are equally important in bringing relevant art news to the public.
Quincy, MA (PRWEB) November 05, 2013
Artscope Magazine's November/December issue shines bright with timely content that is both relevant to trending global issues and intellectually stimulating. Artsope continues to serve growing public demand for constant access to art news as it announces new product developments to its mobile app, digital edition and website.
Artscope Magazine's November/December issue highlights exhibitions that illuminate themes of experience and identity. Artscope writer Christopher Arnot says in the cover story on "Futurecast", a painting exhibition, "This is an exhibit about vulnerability, uncertainty, anxiety, breakdowns, disorientation and other emotional turmoil […] The storms are on the horizon, already causing the ground to shake." Headlining exhibitions including "Topless Jihadi", and "Cuban Virtualities" deal with identity as it relates to current notions of national, religious and gender.
Artscope released a new version of its mobile app, which now includes scrolling side-bar menus Zine and current issue content. The Zine menu also includes featured images for a more dynamic appearance and enhanced reader experience.
Artscope's digital edition, available worldwide on Apple Newsstand, gained new interactive advertisements which allow readers to connect directly with advertisers' websites through embedded hyperlinks.
Artscopemagazine.com now provides a rotating slider on the website's home page that streams the latest content on the Zine.
Artscope publisher, Kaveh Mojtabai, says of the new issue and the new developments, "Artscope maintains a progressive attitude towards presentation as well as content. Function and form are equally important in bringing relevant art news to the public."
Artscope will sponsor several events during November and December, including 3Rivers Arts's Hollywood Noir & Blanc on November 8th, Allston Open Studios on November 9th and 10th, and the Actors Shakespeare Project.
About:
New England's premier source for art and culture, artscope encourages discourse and public engagement, increases visibility, and stimulates the creative economy through timely, journalistic coverage of galleries, museums, exhibitions, artists, and communities. Artscope covers a wide spectrum of arts and highlights local, national and international artists, who show in the New England area as well at New England artists who show beyond the borders. Artscope is dedicated to increasing the marketability, sales potential, and visitor numbers of the New England Arts community.