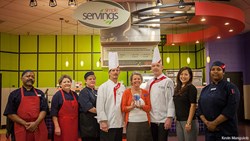 Lynchburg, VA (PRWEB) November 01, 2013
Liberty University is the third healthiest college in the United States, based on a recent report from The Daily Beast. Scores were based on healthy lifestyle choices — alcohol-free, drug-free, and healthy eating. Information was gathered from College Prowler, an online guide created by students to rank schools.
Earlier this year, Food Management magazine awarded Sodexo, Liberty's dining services provider, with the Best Wellness Concept award for its Simple Servings station at Reber-Thomas Dining Hall.
Simple Servings offers healthy options that avoid seven of the eight most prominent food allergens. It was awarded for its consistent service of high-quality foods and for keeping student needs a priority.
Robin Quay, Sodexo's registered dietitian for Liberty, said Sodexo specifically asked the Liberty branch to enter the competition because of the team's ability to produce quality food for a campus that consumes more than 26,000 meals per day when classes are in session.
"At Simple Servings, everything we make is from scratch, using really clean ingredients," Quay said.
Some of the fresh ingredients used to create the menu at the dining hall are grown and picked from Liberty's Morris Campus Garden to ensure the highest-quality produce available.
Quay, who participated in last month's LaHaye Student Union Health Fair, believes Liberty is an ideal place for students who want to live healthy lives.
"I think we are ahead of most other schools as far as our wellness and healthy offerings," she said. "We offer more healthy foods, more healthy options, and more wellness support (like) cooking classes (and) wellness classes, and students can meet with me one-on-one."
As the campus dietitian, Quay meets with students regularly and teaches a weight-management class called the Daniel Plan. She credited Liberty's Christ-centered focus as the inspiration for the quality lifestyle options available on campus.
"Here at Liberty we have a Christian focus, and we need to think that our bodies are gifts from God," Quay said. "They are His temple and we need to treat them as such."
Across campus, Liberty has continued to show its commitment to a holistic approach to wellness — providing opportunities to grow in body, mind, and spirit. This has made the university a champion of health in the local community.
About Liberty University
Liberty University, founded in 1971, is the largest private, nonprofit university in the nation, the largest university in Virginia, and the largest Christian university in the world. More than 100,000 students attend classes on its 7,000-acre residential campus and study in its thriving online education program.