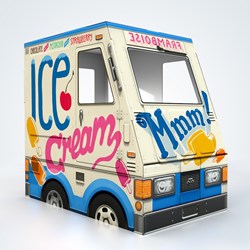 These things really pack a lot of happy. They exist purely to put a smile on your face.
Brooklyn, NY (PRWEB) November 06, 2013
Food trucks seem to be everywhere these days. New ones are popping up all the time, selling everything from Froyo to Kimchi Tacos. Brooklyn toy startup Famous OTO is now launching its own take on the much loved trucks - in the form of super sized and deliciously illustrated cardboard toys for kids. Every step of the truck making process, from product design to manufacturing, has been handled in the USA. The toys will be released in November 2013, initially available online and in select toy stores in New York and Los Angeles.
Famous OTO's first product release – OTO Ice Cream Truck - is a huge cardboard toy truck that sports a unique combination of photo-realistic and hand-drawn artwork. Unlike so many of today's children's products that distract kids with blinking screens, Famous OTO is all about real-world interaction. When the Famous OTO team recently set out to take product pictures in a public park, they were swarmed by enthusiastic kids who simply took over playing with the trucks - a result of the toys being so deliberately eye-catching and inviting.
"So many toy manufacturers seem to think they can get away with sloppy design just because it's for kids," says Famous OTO creator Måns Swanberg. "I think the opposite is true - kids like to see that someone put effort into it. They have strong, innate aesthetic sensibilities and that should not be underestimated."
The website also features a unique license plate editor, where kids can create personalized plates for their trucks.
OTO trucks are made entirely out of recyclable cardboard and are food-grade, certified non-toxic. They are manufactured two hours away from New York, outside of Philadelphia, PA.
Famous OTO is the brainchild of Swedish-born, New York-based creative designer Måns Swanberg. When he's not designing toys, Swanberg is busy with directing projects at NY based production company, Blacklist.
OTO Ice Cream Truck starts shipping November 2013.