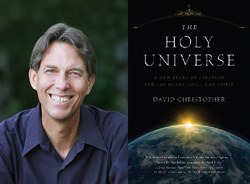 David Christopher provocatively argues the crises we face today just might be the best thing that ever happened to humanity.
Denver, CO (PRWEB) November 03, 2013
Visiting Colorado this week for his national campaign of 'The Holy Universe: A New Story of Creation For The Heart, Soul, and Spirit' first-time author David Christopher breathes life into the cold, scientific worldview of the universe, transforming our physical history into a living story—and providing us with powerful insights into navigating the global ecological, social, and spiritual crises now facing our world.
'The Holy Universe' offers a powerful new narrative—one that transforms the scientific facts of the Universe into a soulful story of creation that is reminiscent of humanity's stories of the ages.
Through a dialogue between a Seeker and his Sage, the book explores the unfolding of the Universe, from the Beginning of All Beginnings, to the emergence of Earth and human beings, all the way to what the Sage calls the "Great Transformation," brought on by the global crises that humanity now faces. As the two explore the implications of this new story, the Seeker finds his path in the midst of the turbulence of our times.
The Holy Universe: A New Story of Creation For The Heart, Soul, and Spirit
Paperback: 384 pages
Publisher: New Story Press (October 2013)
ISBN: 9780985933906
Genre: Spirituality | Fiction | Ecospirituality
Retail: US $17.95 | CAN $19.95
Distributor: Small Press United
Colorado Appearances
Nov 1 - Full Moon Books. Lakewood, CO
Nov 2 - Spiritways Books, Denver, CO
Nov 7 - Book Haven, Salida, CO
Nov 8 - Book Bar, Denver, CO
Nov 9 - Isis Books, Englewood, CO
Nov 10 - Book Bar, Denver, CO
David Christopher left behind lucrative corporate and airline careers to address his lifelong desire for answers to man's eternal question of our place in the Universe. The dialogues he created in The Holy Universe are the result of a fifteen years of deep immersion in the works of new thought leaders such as Brian Swimme, Thomas Berry, Miriam MacGillis, James Lovelock, and celebrated 'Big History' academicians David Christian and Fred Spier. Christopher wrote the book in part for people like him who call themselves "spiritual but not necessarily religious." David lives in Northern California.
Inspiring Promotions is a boutique public relations agency dedicated to promoting some of today's best authors and speakers. Visit http://www.inspiringpromotions/authors then contact us to schedule a media appearance at 415-250-1380 or email suzanna(at)inspiringpromotions(dot)com