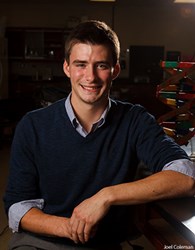 Lynchburg, Va. (PRWEB) November 02, 2013
Liberty University junior Michael Carson won a $500 research grant from the Virginia Academy of Science (VAS) for his presentation on epigenetics of Alzheimer's disease at the VAS Undergraduate Fall Meeting on Oct. 26. This is the third year in a row Liberty has taken home one of the five undergraduate research awards.
"Michael has a very exciting project on a very significant disease. I am glad to see his hard work pay off with this recognition," said Dr. David DeWitt, chair of Liberty's Department of Biology & Chemistry. "Liberty biology and chemistry students have repeatedly demonstrated a high quality of performance as indicated by awards like this one. We had several students compete at VAS and they were all outstanding. Any of them could have won."
In addition to the grant, Carson received an invitation to present at the VAS Annual Spring Meeting, which includes graduate and doctorate presentations as well. Even with the higher level of competition, Liberty students have received first-place recognition in each of the past two meetings.
Liberty competed for the grants against students from prestigious institutions across the commonwealth, including Virginia Tech, George Mason University, Virginia Commonwealth University, and Old Dominion University.
At the meeting, Carson shared his presentation poster and fielded questions about his research.
"A lot of time went into preparing the poster, as far as formatting, content, and laying it out in a way that makes sense to your audience," said Carson, a Biomedical Sciences (Pre-Med) major. "Alzheimer's research is an extremely beneficial topic to research. It gets attention because a lot of people are affected by it. It opens up doors to be able to talk with people. (At the meeting) a lot of people who weren't judges came up to me asking about Alzheimer's disease."
He said the meeting was a valuable networking opportunity and the experience should help him as he applies to medical school. Having done clinical work in the past, Carson said coupling that with a research background is invaluable experience.
Carson's research instructor is Dr. Gary Isaacs, assistant professor of biology. Isaacs recently received a $40,000 grant from the Alzheimer's and Related Diseases Research Award Fund, bringing his total to $90,000 since coming to Liberty in 2009.
"I have been impressed by the professors and their willingness to engage and not just treat you as a number, but to see you as a person and help you toward your future goals," Carson said.
About Liberty University
Liberty University, founded in 1971, is the largest private, nonprofit university in the nation, the largest university in Virginia, and the largest Christian university in the world. More than 100,000 students attend classes on its 7,000-acre residential campus and study in its thriving online education program.