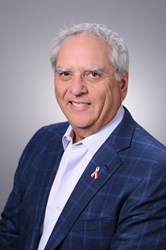 Washington DC (PRWEB) November 01, 2013
Steven Rice, DDS, now uses cone beam imaging technology to determine the precise placement of dental implants in his DC patients. Cone Beam Computed Tomography (CBCT) uses a cone-shaped beam of radiation. The CBCT device rotates all the way around a patient's head, taking hundreds of images in the process. The images are collected and compiled into a 3-dimensional digital rendering of the patient's anatomy including the bone, tissue and nerve structures. In conjunction with special software, Dr. Rice can use CBCT for treatment planning, including a step-by-step plan for dental implant surgery.
Dental implants consist of a titanium base that is placed in the jaw bone, an attachment piece, and a custom crown. The base must be placed at a very precise angle. CBCT can help Dr. Rice determine the angle and can also help him determine if the underlying bone is healthy enough to support the implant structure. After placement, the bone must be allowed to heal around the implant for a period of time. Then, the attachment piece is added, and the dental crown is fixed to the implant. The crown is designed to blend in perfectly with the patient's natural tooth.
Dental implants are a popular tooth replacement solution because they function and look like a natural tooth. Because the implant makes contact with the bone, it can stimulate the bone and encourage it to maintain a healthy level of density. In this way it functions just like the roots of a natural tooth. When cared for properly, dental implants placed by DC periodontist Dr. Steven Rice can last a lifetime with little maintenance.
CBCT has found an important use in implant dentistry. It allows Dr. Rice to see the location of nerve structures so that he can avoid them and cause the patient as little discomfort as possible during and after surgery. CBCT works faster than traditional dental x-rays and thus exposes the patient to less radiation.
For more information about the application of cone beam imaging technology for dental implant surgery, visit http://www.advancedgumsurgery.com.
About The Doctor
Advanced Laser Gum Surgery- Institute of Washington is a periodontal practice offering patients personalized dental care in Rockville, Maryland since 1981. Dr. Steven N. Rice received a Doctor of Dental Surgery degree from the University Of Maryland School Of Dentistry. He continued his education as a General Practice Resident in the United States Army, where he was awarded a Medal of Commendation. He studied periodontics at the Medical College of Georgia and was recognized as a Diplomate of the American Board of Periodontology upon completion. Dr. Rice is part of one percent of dental professionals providing the LANAP FDA cleared laser procedure for gum disease treatment. To learn more about Advanced Laser Gum Surgery Institute of Washington and their dental services visit their website at http://www.advancedgumsurgery.com and call (240) 747-7355.