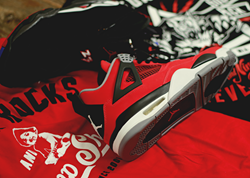 "STMS site will direct customers to exactly what they're looking for more quickly." - Ray Guilbault
Miami, FL (PRWEB) November 05, 2013
8&9 is launching shirtstomatchsneakers.com, an online shopping tool where sneaker heads browse based on their favorite sneaker brand, style or sneaker color. The new site is 8&9's response to growing consumer complaints about shoddy "shirt to match" sites failing to deliver quality product and service. With over 10 years in business 8&9 is well known among sneaker collectors for setting industry standards in product quality and service.
The site itself is home to the shirts to match sneakers shop and will feature a dedicated blog to keep customers in tune with upcoming releases. The layout focuses solely on the experience of shopping shirts to match Lebrons, Jordans, Foamposite and every other classic and current sneaker releases. Social media, customer service are all supported by 8&9.
Founder and Creative Director of 8&9, Ray Guilbault, says of the launch, "It's a perfect way for our brand to better service a niche among our customers. Sneakerheads have their way of viewing products and we want to perfect that experience. STMS site will direct customers to exactly what they're looking for more quickly."
While the site is active now with over 100 products 8&9 plans to add more every week. Shoppers can find exclusive shirts to match up to 120 days before the sneaker release making shirtstomatchsneakers.com the site for an aficionado to frequent.
Fans can follow @8and9 on instagram or twitter or visit the site for more information.