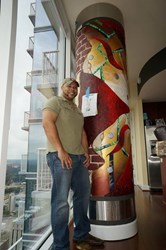 Wake Forest, NC (PRWEB) November 12, 2013
Every Second Friday South White Street comes alive with artists, musicians, and the local community walking up and down the street to take in the newly hanging art exhibits in our local galleries. On November 8th at The Cotton Company guests will be able to enjoy mingling with local artisans, listen to Live Music and glimpse the future of the local art community all in one place.
Omar Cummings is the owner of Manifestationz Art Gallery in Cary NC. Manifestionz is an upscale and dynamic custom art service that provides space enhancements from framed original paintings, photography, prints, and murals from a network of artists. They participate in the Cary 4th Friday art celebrations and it is an honor to cross pollinate the artist community for our 2nd Friday Art After Hours celebration. Omar just completed a custom art commission in September for PNC Bank in Raleigh, NC. He will be back at The Cotton Company showcasing some original abstract artwork and he's bringing back a few painted windows which were a big hit last year.
As a special treat during the artist reception from 6-9pm enjoy live music by a new band on the Art After Hours scene, By the Light of Trees. They will be performing a mostly acoustic set and showcasing the new music school that band leader Anthony Clayborne is starting up in Wake Forest.
The Cotton Company is a Boutique Marketplace Shopping Destination and Art Gallery in the heart of Historic Downtown Wake Forest. With over 60 individual businesses and artists we strive to support local small businesses and drive the entrepreneurial spirit of the vendors who reside inside.
For more information call: 919-570-0087.
Omar Cumming's Featured Artist Exhibit will hang in The Gallery from November4th – December 8th.