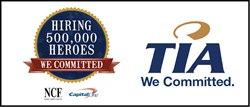 Chicago, IL (PRWEB) November 06, 2013
AFN, an award-winning logistics and supply chain company, has announced it is working closely with two organizations, the Transportation Intermediaries Association (TIA) and Hiring Our Heroes, a program run by the U.S. Chamber of Commerce Foundation, in its efforts to hire veterans.
The TIA plays a key role in recruiting veterans for the transportation industry by acting as a liaison between its members and veteran's organizations. Through AFN's involvement with Hiring Our Heroes, the company is participating in a nationwide pledge to employ 500,000 veterans and military spouses within the next year. AFN is also actively involved in activities including employment workshops, where its recruitment specialists volunteer to conduct mock interviews with vets and offer tips on interviewing and feedback on resumes.
Both initiatives are outcomes of AFN's commitment to recruiting, hiring and training veterans. "We recognize and value the unique skill sets that former military employees bring to the table, and we're excited about the opportunity to give back," said Michael Nervick, CEO at AFN. "Veterans make great employees because of their focus, dedication to the task at hand, organizational skills, diligence and overall work ethic. And vets seem to thrive in our environment. They say that they like working here because of our strong team mentality and our commitment to employees."
Throughout the coming year, AFN will be hiring for several skilled and entry-level positions in the rapidly growing field of logistics and supply chain management. The company counts many of the top 10 retailers as clients and has won numerous awards within the industry and as an employer. Interested candidates can learn more about career opportunities on AFN's website.
About AFN
Serving motor carriers, manufacturers and retailers since 2003, AFN (formally known as Advantage Freight Network) is an award-winning leader in freight brokerage, third party logistics and transportation management services. We are known for our commitment to client service, our proactive approach to fighting cargo theft and our expertise in retail compliance.
To learn more about AFN, visit http://www.loadafn.com or call 877-LOAD-AFN.