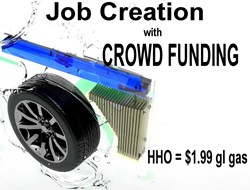 America can see GAS as low as $1.99gl by the summer's end in 2014 when we all pitch in together. Bulk Ordering is the key with this self taxation program that create over 600,000 jobs.
St.Louis, MO (PRWEB) November 05, 2013
The average American will spend $300 this month, just driving back and forth to work. What if there were a clean fuel invention that could save these same Americans money while also promoting jobs creation in their communities? Where 90% of the revenues created are put back into the economy to help with the US Recovery Act? There is hope and economical change coming using the Hydrogen Car Fender insert designed by Invention Designs and Concepts LLC U.S.A.
The Hydrogen Car Fender insert is completely undetectable when installed and can save a car owner as much as $2,400 annually in fuel costs. Signing up with the program for installation now and Inventions Designs & Concepts will provide free installation and delivery for the $300 device.
The goal of the program is to provide Americans with 600,000 new jobs by 2016 while providing a clean energy fuel source and passing much needed savings on to those who desperately need to economize their fuel costs. Employers can offer it to their employees as a benefit, and in return earning both a Green Energy tax break and a Job Creation Tax incentive.
"The Hydrogen Car Fender help save employers $220 each employee. Helps save employees $2,400 yearly. It is the best choice for employers and employees over an average yearly pay raise plus bonuses combined," says Austin, who believes that in order to help this new start-up program.
The ID&C is seeking to set up District Managers nationwide who will serve 26 small business start-ups and all the paperwork and business licensing for those businesses and teams require. This is a great opportunity for investors who can buy in bulk and collect monthly rental fees. ID&C LLC then manages the refills.
Maximizing the Use of Crowd-funding
A Fender Catalog will be created to list all 200+ different makes and models of car fenders to gain a selection of fender designs and blueprints to work with. The fenders fits behind your car fender and have a completely undetectable inner working when installed.
The Hydrogen Fender insert crowd funding program should not be understood as a Verbal pledge program of help and support in order for to receive U.S. Government Tax Breaks. This is, rather, an investment program and for those employers who invest will get three officially recognized tax deductions for each $300 investment which then helps their companies and others hire more workers.
"ID&C will need your help and crowd funding support so ID&C and it's staffing can help bring you the people the perfect product that money can buy."
For further information, please visit the following websites:
http://www.fatttrixx.com/HydrogenCarFender2012.html and you can also find their second CrowdFunding post on Rock The Hub at http://rkthb.co/33953 web site today. Follow us on Twitter @Create33000JOBs.