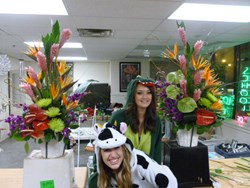 Chicago, IL (PRWEB) November 03, 2013
Students at the Chicago School of Flower Design love their classes so much, not even Halloween can get in their way. During one of the final classes of their Master's Course, students are taught the art of Tropical Flower Design, and do it exceptionally. Two students even showed up in costume to the Halloween day class. The Chicago School of Flower Design, founded by Michael Gaffney, focuses on both traditional and contemporary areas of flower design. Students have the choice of completing an 8-week basic semester as well as an additional 4-week master's course. As you can see by these student's designs, each individual creates and takes home their arrangement at the end of each class period. It is a pleasure to be present watching the instructor, Jessica Nepsha, demonstrating and completing each design before the students tackle the same task. Each student's design comes out unique to the other, but have the same beautiful touch as expected this far along in their design courses. Each student looks forward to graduating the course and are eager to spread their wings in the Floral Design Industry. Students that have completed the courses at the Chicago School of Flower Design are largely successful in both starting their own business adventures as well as working in shops all over the area.
For more information on the Chicago School of Flower Design, please call 1-877-32-BLOOM.