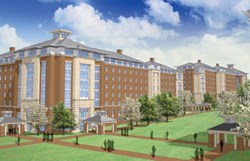 Lynchburg, Va. (PRWEB) November 03, 2013
The first of six nine-story residence halls planned for the Liberty University campus is taking shape, now towering over the Vines Center (the school's basketball arena) and the older residence halls nearby.
The new structure, part of Liberty's $500 million campus rebuilding, will provide 1,200 beds for students, with two beds and a bathroom per room. The plans also call for a spacious central commons area on each floor.
"One of the things we heard from students is that the (current) residence halls do not have a space where students can spend time their friends, so we specifically designed the new residence halls with that in mind," said Jamey Sublett, director of Student Housing.
Sophomore John Armstrong said that while he enjoys living in the current residence halls on the Champion Circle, he looks forward to the advancements that will come with the new facilities.
"I think that the new dorms will bring more students, obviously because they can house more people, but also because it will look nice. It will add to the aesthetics of the campus," Armstrong said.
The first high-rise residence hall will provide enough beds to replace all 16 of the original Champion Circle halls built in the same location in the 1970s.
Todd Campo, vice president of Student Leadership, said he has only heard positive comments from students about the future residence halls, including their convenient location.
"This is another facet in a series of improvements (on Liberty's campus)," he said. "As you look around, not only new facilities are being made, but also new state-of-the-art facilities are being made. It shows where Liberty is going, the reputation it is receiving, and the number of people who are going to want to come and participate in the university experience like they can't anywhere else in the nation," Campo said.
The project calls for a crew of 60 to 100 each day, who are currently working on the steel erection, wall panels, and floor slabs. Steel work on three stories has already been completed.
The new residence hall is expected to be completed in time for the 2014-15 school year. Students who were living on residence halls 1-4 during the Spring 2013 semester and were relocated due to the new building project will receive first priority in the new hall.
About Liberty University
Liberty University, founded in 1971, is the largest private, nonprofit university in the nation, the largest university in Virginia, and the largest Christian university in the world. More than 100,000 students attend classes on its 7,000-acre residential campus and study in its thriving online education program.