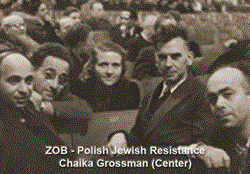 The greatest menace to freedom is an inert people...(Justice Louis D. Brandeis, US Supreme Court)
Los Angeles, CA (PRWEB) November 06, 2013
"The Mask" bad guy, Orestes Matacena, pays tribute to women with the main character of his new movie "Swastika," one of many active Jewish Resistance fighters, Ivonna, who refuses to stop, even while pregnant. Read more and become a Kickstarter backer to help make the movie:http://www.swastikathemovie.com. Just like Ivonna, women fought on the front line in the Resistance while also functioning as couriers, spies, safe house keepers, nurses and snipers, to do whatever they could to bring down the Nazis. Children and adults were smuggled to safety from the ghettos, food and weapons sneaked to the partisans, intelligence gathered and propaganda distributed. Resistance movements organized even from inside the death camps have not been addressed much, if at all, in the film world.
Many women left their homes, families and friends, but not everyone qualified to participate, and they were tested before being given dangerous missions. Once accepted, the women went on to set land mines that cut off German supply lines, bombed buildings and roads and bridges to slow down the transport of people to death camps. Underground activities were so top secret and compartmentalized, women were often not recognized for their roles as Resistance leaders.
The women in the Resistance came from all over Europe, Jews and non-Jews: Italy, France, Germany, Norway, Netherlands, Poland, Greece, England...the list goes on. They came from all walks of life, daughters of bankers and counts, socialites, as well as women from very humble backgrounds. Many are well known today like Chaika Grossman, Irena Sendler, Princess Noor Inayat Khan and even Queen Wilhelmina of the Netherlands.
Story after story, these extraordinary women, unsung heroes who risked their lives, not just for days, but for years, lived, acted, endured situations and carried out unbelievable missions that we can only conceive of in the movies. But these women and their missions were real! Some of the women were able to escape and continue their lives and some suffered great psychological scars, but, unfortunately, many were caught by the Nazis, arrested, tortured and executed. The movie "Swastika" and the main character Ivonna pay tribute to these women, fighters and participants.
Anyone interested can be part of this movie experience and become a backer at SWASTIKA KICKSTARTER CAMPAIGN. The "Swastika" campaign began October 30, 2013 and will continue until December 16, 2013. Backers can pledge from $1 up to $10,000.
View a movie promo on YouTube: http://youtu.be/JnxGJxBxjng
About the Company: East General Plan Films owners and Producers of "Swastika," Orna Rachovitsky and Orestes Matacena, have made movies together for fourteen years that entertain and make the audience think. The production office is in Los Angeles, CA. Orestes, an actor, has worked with top directors (John Milius, Charles "Chuck" Russell and Barry Sonnenfeld.) He worked in theatre, commercials, film and has written forty screenplays; "Bitter Sugar" is one that was directed by Leon Ichaso ("Sugar Hill," "El Cantante"). Orestes produced and directed several features, "Swastika" is his next project. Orna Rachovitsky is a producer, actress and filmmaker. Her work includes, independent features, documentaries, music videos as well as voiceovers, industrials and training videos. The movie "Swastika" hits very close to home as many family members on her mother's side perished at the hands of the Nazis in Babi Yar (Kiev, Ukraine) and on her father's side in Russia and Poland.