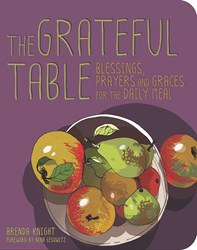 (PRWEB) November 02, 2013
Publisher and founding editor of Viva Editions, Brenda Knight, will launch a new book just in time for the Thanksgiving season, The Grateful Table. "I am telling everyone, this is not your grandmother's book of graces, but she'll like it too."
What would happen if you sat down to dinner with the likes of Alicia Keys, Jonathan Safran Foer, Drew Barrymore, David Lynch, Sir Ben Kingsley, Alton Brown, Neil Gaiman, Deepak Chopra? Fascinating conversation, without doubt, and one of the things all these folks have in common is that they practice gratitude and have a lot to say about it. All these thinkers and luminaries are in The Grateful Table, making this a thoroughly modern book of blessings, both heartfelt and deeply profound. Saying grace is one of our loveliest traditions and one that has stood the test of time for a good reason—it simply feels wonderful. Filled with fresh voices and contemporary expressions of thankfulness in a gorgeously giftable hardcover, this book of blessings will make every occasion more meaningful. The Grateful Table has already been featured by Home Style Book Club as reminding us of "the joy of living, loving, and… cooking!"
Maggie Oman Shannon, author of the bestselling Viva book Crafting Calm, will be interviewing Brenda Knight at the Unity Spiritual Center of San Francisco on how gratitude is a method of spiritual growth this Sunday, November 3rd at 10am. This will be followed by a "gratitude lesson" presented by Brenda. Later that night, Brenda will be copresenting The Grateful Table at Book Passage Marin at 7pm with Nina Lesowitz, author of the bestselling Living Life as a Thank You.
Join Brenda at her other events:
November 13, 7pm: A Great Good Place for Books, Oakland
November 19, 7pm: City Lights, San Francisco
November 21, 7:30pm: East West Bookshop, Mountain View
November 23, 5pm: Towne Center Books, Pleasanton
"Good food is an amazing blessing. Whenever you can sit down at a table, eat food that is extremely delicious, and are surrounded by people you love… it's: Wow, life is good." —Alicia Keys
A portion of the proceeds from The Grateful Table will go to Building Opportunities for Self-Sufficiency (BOSS). BOSS operates a network of housing and support services in Berkeley, Hayward, and Oakland, California. They work directly with at-risk youth and families to help them get back on their feet. BOSS's programs provide whatever level of support people need and request in order to build health, wellness, and self-sufficiency, whether they're seeking one- time assistance or help for longer periods of time.