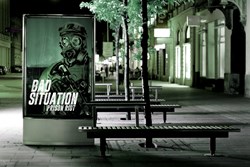 (PRWEB) November 17, 2013
Jakub Fojt and his production crew of thirty are currently utilizing a Kickstarter campaign to raise funds to be able to create an action-packed, historically accurate action film called "Bad Situation: Prison Riot." The film is based off of the Leopoldov Prison Riots of 1990, where several prison guards were injured or killed when the prisoners staged an all-out rebellion using makeshift weapons such as razors, petrol bombs, and improvised flamethrowers, resulting in one of the toughest, bloodiest riots to occur in over a quarter century.
"The movie will portray the events of 1990 in modern times, so that the filming crew will be able to captivate audiences with the latest equipment, filming procedures, and weaponry. The historical events of the Leopoldov Prison Riot will make for the legendary action-packed, edge-of-your-seat thriller ever made based off of a significant historical event," says Jakub Pavlik, a member of the production team.
The crew is currently comprised of over thirty people; three of them were active participants of the 1990 Leopoldov prison riots, and fifteen of them are active SWAT members. These crew members will act as consultants to the actors to make the film as historically accurate as possible. Some of the participants in the riot will also take on key acting roles in the movie. The team consists of film professionals who will give expert guidance on creating action scenes.
The soundtrack for the film will be recorded by the Prague Film Orchestra, which has recorded renditions of "Gonna Fly Now" from Rocky, as well as other famous motion pictures. The Prague Film Orchestra is led by Conductor Jiri Korynta, who is featured in the Guinness Book of World Records as the only man who can professionally play 34 instruments.
Being independent filmmakers, the crew creating "Bad Situation: Prison Riot" are relying on their own funds to create the movie. The funds raised through the Kickstarter campaign will allow the crew to use sophisticated, up-to-date equipment and technology to create one of the most historically accurate action films. With enough funding support from the Kickstarter campaign, the crew will also be able to produce a 3D version of the film. The goal is to raise at least $1,250,000.
As a token of appreciation, free wallpapers relating to the movie can be downloaded at http://www.bad-situation.com.
Please make sure to share this page via Facebook, Twitter, or by e-mail in order to ensure that the world knows about "Bad Situation: Prison Riot" and the enormous potential for success it has in the film industry.
The kickstarter page is here: http://www.kickstarter.com/projects/1128169281/bad-situation-prison-riot