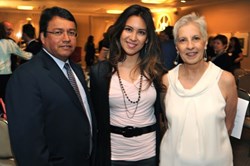 (PRWEB) November 01, 2013
Nancy Piña, a first-generation American with a passion for real estate law, has been presented with a scholarship honoring The John Marshall Law School's first Hispanic graduate.
To celebrate John Marshall's legacy of diversity, the law school established the William E. Rodriguez Memorial Scholarship in November 2012. Ricardo Meza (JD '90) and Joan Pantsios (JD '75), two of the first donors to the scholarship, met with Piña at a recent luncheon honoring scholarship donors and recipients. Meza is executive inspector general for the State of Illinois. Pantsios' aunt was at one time married to Rodriguez.
Piña is a first-generation American and the first in her family to graduate from college. She worked in the family's auto repair business during her years at Morton West High School in Berwyn, Ill., and as a college student at DePaul University. Piña graduated with a bachelor's degree in real estate investment and finance from DePaul and worked for several years at a law firm that focused primarily on foreclosures. The work piqued her interest in real estate law and its curriculum offered at John Marshall. Today, Piña is president of John Marshall's Real Estate Law Student Chapter of Lambda Alpha International.
The Rodriguez scholarship is helping lift some of law school's financial strain from Piña. "When I entered law school, I definitely imposed a financial burden upon my family," she explained. "I want to thank everyone for what they have done for me. It is people like you," she told donors, "who help us students fulfill our dreams."
Rodriguez was a house painter when he enrolled at John Marshall, and was one of 57 graduates of the Class of 1912. He went on to serve as an alderman in the Chicago City Council, and unsuccessfully ran for Chicago mayor on the Socialist ticket. Rodriguez also helped found the Chicago chapter of the American Civil Liberties Union and ran unsuccessfully for a judgeship in 1933. He practiced law well into his 80s and eventually moved to Phoenix where he died in 1970.
About The John Marshall Law School
The John Marshall Law School, founded in 1899, is an independent law school located in the heart of Chicago's legal, financial and commercial districts. Through classes, clinics and special programs, students develop the strategic, analytical and transactional lawyering skills that are so valuable to employers. Its excellent curriculum, coupled with outstanding skills and experiential learning, help make John Marshall graduates practice-ready from day one. For practicing attorneys, John Marshall offers nine LLM degrees, more than any other law school in the Midwest. John Marshall is also a leader in providing distance education options in intellectual property, estate planning and employee benefits at the advanced graduate degree level. John Marshall offers six clinical experiences, including the nationally recognized Veterans Legal Support Center & Clinic and the Fair Housing Legal Clinic. U.S. News & World Report's America's Best Graduate Schools 2014 edition ranks John Marshall's Lawyering Skills Program second and its Intellectual Property Law program 12th in the nation.