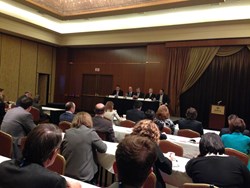 'Cali Baja has the talent to innovate, design, develop, and manufacture the products that will be part of the next wave of economic growth in North America.' - David Mayagoita, Tijuana EDC and CaliBaja Initiative Chairman
Tijuana, Mexico (PRWEB) November 04, 2013
The 4th Annual North American Competitiveness & Innovation Conference (NACIC) took place in San Diego. Hosted by the San Diego Regional Chamber of Commerce and the U.S. Department of Commerce International Trade Administration, this year's conference was attended by government officials, trade organizations, major North American businesses and international finance firms from Mexico, the United States, and Canada. This year's theme was Creating Jobs for North America under the NACIC's coined vision "Three Nations, Two Borders – One Economy."
Panel discussions highlighted major industry sectors such as clean energy and clean technology, aerospace, automotive, and research and development in innovative technologies. Additional sessions focused on the North American workforce and the need for partnership between industry and academia to develop a 21st century workforce, foreign direct investment opportunities in the region, the North American supply chain and successful strategies for cross-border collaboration. Former New Mexico Governor Bill Richardson was the special keynote speaker at the conference dinner. As a former US governor of a state that borders Mexico, Richardson was a very apropos choice to discuss a vision for North America that was competitive, encouraged cross-border trade and business, and one that developed industry/academia partnerships to support job growth and a highly-skilled workforce.
Mexican Secretary of the Economy Ildefonso Guajardo and Canadian Minister of International trade Ed Fast, joined U.S. Secretary Pritzker at the conference's keynote luncheon and panel discussion to an audience of 400 people. Mexican Secretary Guajardo noted the North American Free Trade Agreement's (NAFTA) dramatic impact on Mexico's economic landscape over the last twenty years, saying "the economic geography of Mexico has changed radically. At the time of the agreement's signing, manufacturing represented only 15 percent of the country's exports — compared with 85 percent today."
In a Union Tribune op-ed article by U.S. Secretary Pritzker after the conference, she remarked on the NACIC conference's purpose and the competitive benefits of doing business in North America, "It is our job to showcase why North America remains the most attractive place in the world in which to do business. Our advantages are many. We're a market of more than 460 million consumers, projected to reach 630 million by 2060. Our economies are growing. North America is a source of abundant and affordable energy, and we have a skilled, productive, and affordable workforce. We've made tremendous investments in research, development and innovation that will pay dividends in years to come."
The Tijuana Economic Development Corporation (Tijuana EDC) and CaliBaja Mega-Region Initiative Chairman, David Mayagoitia was joined on a panel of binational business experts to discuss successful strategies for cross border collaboration.
"We have significant opportunities to leverage our engineering and advanced manufacturing capabilities and be more competitive than any other market in the world."
He also showcased the CaliBaja Bi-National Mega-Region Initiative, that markets San Diego- Imperial Valley-Baja California as one region with complimentary capabilities. In a panel discussion Mayagoitia mentioned how far the binational region concept has come and its business potential. "It is the only mega-region in the world that combine nature resources, growing market, innovation and a growing pool of talent, plus access to affordable advanced manufacturing".
In collaboration with the conference, the Tijuana EDC offered attendees a unique opportunity with an industrial tour of Tijuana visiting TURBOTEC's plant (a subsidiary Solar Turbines, a Caterpillar, Inc. company) and Greatbatch Medical's manufacturing facility. The purpose of the tour was to showcase the strong industrial base established in the region to key business leaders from all three countries. Tijuana has grown from being known as the television manufacturing capital of the world, to high-tech manufacturing of sensitive products like those for aviation, aerospace and medical devices.
The Tijuana EDC's two plant tours during October, highlighted the aerospace and medical device manufacturing industries in the region, both which have seen record growth over the last few years.
About Tijuana EDC: Founded in 1989, the non-profit Tijuana Economic Development Corporation (DEITAC as it's acronym in Spanish) has been dedicated to facilitating industrial operations and business opportunities within the CaliBaja Region. Comprised by 100+ leading service professionals and infrastructure providers, we offer foreign investors advisory and project management services for establishing successful manufacturing operations in the City of Tijuana.