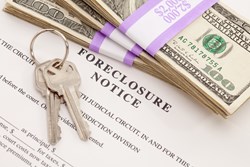 (PRWEB) November 02, 2013
Typically, when a homeowner short sells or settles with the bank by granting the bank a deed-in-lieu-of-foreclosure, the bank agrees to accept less than the full amount of the loan in return for not having to go through the foreclosure process. According to Probate and Property magazine, for federal income tax purposes, the difference between what is owed on the loan and the lesser amount the lender agrees to accept is the cancellation of debt ("COD") amount, which is generally considered taxable ordinary income for the debtor. (I.R.S. Code §61(a)(12).) A loan modification can also be considered taxable COD if the modification is significant.
In 2007, Congress passed the Mortgage Forgiveness Debt Relief Act of 2007 ("MDDRA") to grant relief to homeowners in the beginning of the housing crisis. MFDRA created exemptions so that homeowners would not have to pay taxes on COD amounts if the loan was on the borrower's primary residence and other requirements are met.
Currently, the exemptions under MFDRA are set to expire at the end of 2013, in just two months. "With Congress more focused on stopping Obamacare and austerity measures, there is a good chance that the exemptions may not be extended," states Erik Berg, the owner/broker at Portfolio Aspen Properties.
What does this mean for homeowners? "If you are considering short selling your home or negotiating a loan modification with your lender, now is the time to do it," says Berg, "depending on the situation, the tax liability can be significant and usually homeowners that are considering these options are already having financial hardship."
If you would like to discuss short selling your home in Colorado's Roaring Fork Valley, or for more information on Aspen and Roaring Fork Valley real estate, please visit http://www.portfolioaspen.com/.
About Portfolio Aspen Properties
Portfolio Aspen Properties draws from the largest and most comprehensive network of available homes in Aspen and the Roaring Fork Valley to make sure its clients see all of the properties that meet their criteria. Portfolio brokers deals for clients looking to buy Aspen property, sell Aspen property, and invest in Aspen property. The company also provides its clients with a diverse collection of high caliber luxury rental properties in the Aspen area.