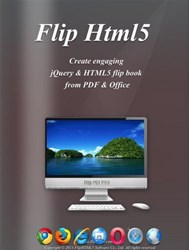 (PRWEB) November 03, 2013
FlipHTML5.com is known for developing and supplying high tech e-book creator apps and recently its free PDF to ebook software has been ranked among the Top 5 Fabulous Digital Publishing flip book Software programs owing to its advance features and usability.
This HTML5 Flipbook maker is an ultimate solution to making high quality professional e-books. Online marketers these days need media rich content in order to attract customers and they are seeking easy and quick means with which they can create custom media rich content to distribute across various platforms. E-books are an important element of online marketing but creating one previously required a great deal of time and efforts. But not now; with HTML5 and jQuery based software by FlipHTML5.com this task has become very easy and fast.
This software requires no coding and users can create instant e-books which can also be published conveniently. The software has pre designed themes, backgrounds and templates and customization options which users can use in order to create exactly what they need. In addition to this, the software also allows users to add logos and brands to the e-books created. The HTML5 feature renders the e-books compatible with mobile platforms as well as the web.
FlipHTML5.com's products are easy to use and the company offers high tech solutions for digital media publishing industry. The best part is that the company offers basic versions of all its software at no cost at all.
FlipHTML5.com is an online company offering a wide range of digital media publishing tools. It offers high tech e-book creator software program at no cost at all.