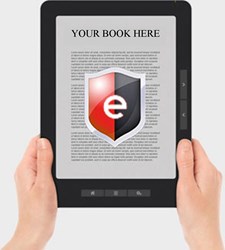 We are looking forward to offering customers enhanced security and functionality
Wilmington, DE (PRWEB) November 06, 2013
Upcoming changes to the Adobe Content Server (ACS) and Reader Mobile Software Development Kit (RMSDK) will mean upgraded security and enhanced support for subscribers of EditionGuard's eBook publishing platform. Updates are planned for early 2014.
ACS software is a powerful enterprise-level server solution that digitally protects PDF and EPUB eBooks, so they may be securely distributed through supported devices, including smartphones and tablet devices. EditionGuard's subscription-based hosted service offers pay-as-you-go pricing to help make this powerful publishing solution available to authors and small to medium-sized businesses.
In addition to its flexible pricing model, EditionGuard helps small to medium-sized businesses navigate past the traditional hurdles of self-publishing and running an eBook store. With an easy-to-use web-based dashboard, developer friendly API's and turnkey shopping cart integrations, virtually anyone can start selling eBooks within moments after subscribing to one of EditionGuard's affordable plans.
Once the customer's first eBook is published with one of EditionGuard's turnkey solutions or easy API, the customer will have access to EditionGuard's proprietary real-time reporting API that provides real-time information about eBook fulfillments.
"Adobe Content Server 4 represents the most cutting edge eBook publishing features and security measures, but 'cutting edge' in the world of technology is a moving target," said EditionGuard's founder and CEO Turgay Birand. "We are looking forward to offering customers enhanced security and functionality," Turgay continued.
About EditionGuard
EditionGuard is an affordable hosted eBook DRM (Digital Rights Management) solution for protecting ePub and PDF eBooks from piracy. It leverages the industry standard DRM system Adobe Content Server, the same technology used by the biggest names in the digital publishing sector.