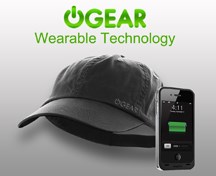 Robert Fitzgerald "Low cell phone power is no fun. It means cutting calls short and closing background programs to try and conserve power. Knowing I am about to run out of power is more stressful then the loss of power"
Barrington, IL (PRWEB) November 02, 2013
Robert Fitzgerald, President of NRG Products LLC, announced today the release of the Power Gear Headwear Collection, a line of Hats with built-in hidden rechargeable batteries and USB charger for iPhone, Android Devices, Tablets, E-Readers, and other USB devices, plus their interchangeable LED light accessories which boast the smallest and brightest light technology in the market today. This game-changing line of Wearable Tech has launched on Indiegogo and has already surpassed its goal of $25,000 in just a few short days.
LED Lighting Option
Unlike current LED hat products, Power Gear's LED plug-in's integration is nearly invisible to bystanders, dodging bulky antiquated technology that fails to maintain aesthetic appeal. The interchangeable plug-in element allows the wearer the option to switch the standard 5mm white LED's to multi-colored 5mm lights or to a brighter 3 watt white LED (280 Lumens) unit for situations requiring more light and safety.
The LED system is also incredibly energy efficient, able to remain alight for 100 hours straight with the flexible lightweight Polymer Li-ion rechargeable battery built into the brim.
Privacy Light Infrared Technology
From the A list celebrity to the average Joe, the optional INFRARED lights make it possible to restrict most cameras from taking your picture. The lights are designed to block facial recognition algorithms in use by many of today's cameras. When seen on camera, the subject emits bright white light from their face. When in operation the infrared light beam is not visible to the human eye, so as not to be detected by those around you.
About NRG
NRG has been designing and manufacturing LED products for the active lifestyle market for over 10 years, creating many strategic partnerships for NRG's distributors and their retailers. Stores such as Eddie Bauer, REI, Cabela's, Bass Pro, Lowes, Kohl's, Sears, JC Penny, Walmart, Pet Smart, Restoration Hardware and many others have carried NRG's LED hat technology. Power Gear Headwear is designed for people on the go, outdoor enthusiast, tradesman, or DIYer, anyone who may need more power or more light.
About Indiegogo
Indiegogo is an international crowdfunding site that hosts campaigns meant to empower and enrich the lives of small businesses that have raised millions of dollars.
About the Power Gear Campaign
The Power Gear campai gn launched last we ek on Indiegogo and will run through November 26. They have already raised close to $30,000 on Indiegogo, with plans to expand their business with the opening of "Power Gear" kiosks. Currently the full package for Power Gear Headwear Line is available for pre-sale on Indiegogo with great rewards including Power Gear early adapter specials, headwear bundles and distribution packages.