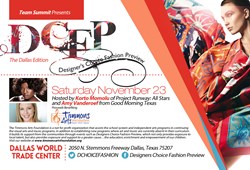 Dallas, TX (PRWEB) November 10, 2013
The Designers Choice Fashion Preview returns to the Dallas-Fort Worth Metroplex Saturday, November 23rd, featuring collections by local designers from Dallas-Fort Worth and surrounding areas. Doors open promptly at 6pm for VIP guests at the Dallas World Trade Center. This year's featured designers include Aaliyah Fisher, Angel Burrell, Candace Lee, Charles Smith II, Charlotte Quaco, Chelsea B. Stumo, Dora Yim, Lyza Faye, Megan McKinney, Misty Wells, Shonda Stroud Ali Shamaa, Venny Etienne and Korto Momolu. Featured designers have donated a beautiful one-of-a-kind garment to auction off during the show. The live auction will take place during the runway show, with all proceeds benefiting the Timmons Arts Foundation.
To get a sneak peak of the auction items prior to the show, visit http://www.timmonsartsfoundation.org on or after Monday, November 4th. Tickets to the fashion show can be purchased online at the following website: http://www.dcfpdallas2013.eventbrite.com. VIP ticket holders receive exclusive access to the VIP Mixer with full open bar throughout the show, a personal meet and greet with Korto Momolu and DCFP designers along with VIP Seating. VIP tickets are limited.
General Admission - $35
Exclusive VIP - $75
DCFP Fashion event is Saturday, November 23, 2013.
Dallas World Trade Center
2050 N Stemmons Fwy, Dallas, TX 75207
Doors open at 6:00pm for VIP
Doors open at 6:30pm for General Admission
VIP Meet and Greet Reception - 6pm – 7:15pm, Show starts at 7:30pm
About The Designers Choice Fashion Preview
Initially launched in Little Rock, Arkansas, and named the largest fashion show in the state, the Designers Choice Fashion Preview showcases fashion designs created by local designers in surrounding areas with the mission of providing a platform to showcase their talent. Past DCFP hosts and participants include Project Runway alum Korto Momolu, Supermodel Tyson Beckford, Boris Kodjoe, Nicole Ari Parker, Laman Rucer, Remi Ayodele, Page Parks, FOX news anchor Donna Terell, Reco Chapple from Bravo Televisions "The Fashion Show" and Project Runway Alums Jerrel Scott and Mychael Knight. The combination of local designers, and celebrity powerhouse hosts has given the Designers Choice Fashion Preview local and national exposure, being featured on Korto Momolu's special on CNN as well as Fox News, and a sellout crowd each year! This show is not to be missed.
About The Timmons Arts Foundation
The Timmons Arts Foundation is a 501(c)(3) not for profit organization that assists the school system in continuing the visual arts and music programs, in addition to establishing new programs in schools where art and music are currently absent in their curriculum. In order to support the arts industry, we must assure that art education is present where it all begins…with our youth.
Founded in December, 2011, The Timmons Arts Foundation has been active in the communities they serve. The first TAF grant was awarded in April, 2012 to Chicot Elementary School's Arts and Music Program. The second initiative was to support families in need by providing over 2,000 backpacks and school supplies at the 1st Annual Timmons Arts Foundation Back To School Kids Fair. Efforts continued in Dallas, TX, where W. T. White High School was selected to receive proceeds from Designers Choice Fashion Preview Fashion Show - Dallas. In April 2013, TAF awarded an Alto Saxophone to a student from Mablevale Middle School in Arkansas.
The Timmons Arts Foundation builds its support from the community through events such as Designers Choice Fashion Preview, which not only provides exposure to local talent, but also provides exposure and support to a greater cause…the education, enrichment and empowerment of our children.
Connect with The Timmons Arts Foundation on facebook and twitter. For more information concerning this outstanding organization, the Designers Choice Fashion Preview 2013, press passes or private interviews please email Rachael Yvonne Davis at info(at)unitedentinc(dot)com or visit The Timmons Arts Foundation website at http://timmonsartsfoundation.org/.