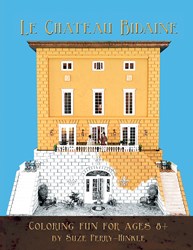 love of all things French
Sausalito, CA (PRWEB) November 06, 2013
Northern Californian artist, Suze Perry-Hinkle, began creating her new Le Chateau Bidaine coloring book by building an elaborately detailed scale model of a 17th century French hunting lodge. Perry-Hinkle who has a, "love of all things French", meticulously recreated much of the look and feel of the original home – ornate hand-made furniture, fine art paintings, grand staircases, horse stables and even working glass chandeliers. She transformed professional photographs of the interior and exterior of the mini mansion into black and white outlines, which still contain some of the shading and detail of the photos. The result is a unique and artistic coloring experience that both children and adults can enjoy. The storyline accompanying each page is printed in both English and French side by side.
Over the past 14 years, Suze Perry-Hinkle has merged her appreciation of French art and architecture to build more than 30 magnificent miniature buildings, from private homes and a chocolate shop, to a wine shop and hotel. Some are based on actual structures, such as 19th century painter Toulouse-Lautrec's Paris apartment. Others, like the boarding house run by a family of hedgehogs, are complete flights of fancy. All are lavishly decorated worlds onto themselves. Suze's creations have been featured on the covers of American and international dollhouse and miniature model magazines.
A neighbor gave 17-year-old Perry-Hinkle her first job and changed her life forever. Lillian Williams shopped at the legendary flea markets of France and shipped the treasures she found back to San Francisco. Suze helped restore the French antiques that were then sold at Lillian's store. Suze still uses many of the techniques she learned from Lillian in her artwork today.
Lillian and her husband Teddy Williams are the current owners of Chateau Bidaine, located in Aix En Provence, France. Suze created the miniature Chateau Bidaine and Le Chateau Bidaine coloring book as a loving tribute to her mentor and friend.
For more information visit http://www.squidoo.com/le-chateau-bidaine-coloring-pages
Le Chateau Bidaine
By: Suze Perry Hinkle
ISBN-13: 978-1482002256
Retail price: $11.05
Available at Amazon http://www.amazon.com/Chateau-Bidaine-Coloring-Architectural-Miniatures/dp/1482002256/ref=sr_1_1?s=books&ie=UTF8&qid=1383710476&sr=1-1&keywords=bidaine
Book Reviews & Media Inquiries:
Oscar Salabert
Email: oscar(at)ruedesuze(dot)com
Phone: 415-336-7773