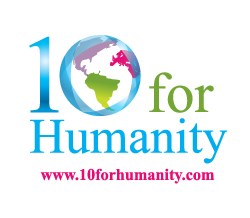 Raleigh, NC (PRWEB) November 02, 2013
One in every three women will be beaten, raped or otherwise abused during her lifetime.* To help reverse this sobering statistic and empower women across the globe, 10 for Humanity is introducing a revolutionary hands-free device called the Tiger Eye Security Sensor (TESS).
Designed to be worn as a piece of jewelry, TESS will have the ability to protect people of all ages from criminals and bullies. The device will sense high stress in the voice when activated by certain words such "help," "stop," or "no" and instantly dispatch the police, based on GPS location. At the same time, TESS will video record the incident to aid in the identification and prosecution of criminals.
To help bring this product to market in the spring of 2014, 10 for Humanity has launched an Indiegogo crowdfunding campaign that goes through December 31 and aims to raise $100,000.
"The power of the Indiegogo campaign is that it engages people in a proactive fight against violence," said CJ Scarlet, CEO and founder of 10 for Humanity. "Have you ever asked yourself 'What can I do about this problem?' but felt helpless? THIS is the answer."
Scarlet was the victim of rape at the age of 19 and has since made it her life's mission to be an advocate for crime victims. She founded 10 for Humanity to develop 10 new technologies to reduce violence by 10 percent in the next decade. TESS is the first. It is being developed in collaboration with top technology and safety industry leaders including: RTI International – one of the world's leading think tanks; NC State University; and a host of other emerging technology experts and law enforcement agencies.
"By joining together, we are giving control back to women. Think of TESS as your personal bodyguard that offers you the freedom to no longer live in fear," said Scarlet.
--more--
There are three ways people can support the 10 for Humanity Indiegogo campaign:
1. Make a contribution toward the development of this revolutionary product.
2. Share the video.
3. Sign up to receive alerts to follow the progress of the product development.
10 for Humanity is developing 10 innovative technology-based products and mobile applications that will reduce acts of violence globally by 10 percent in the next decade. The company's vision is to help people in both developed and developing countries, embracing the notion that EVERYONE deserves to live in a safer, more peaceful world.