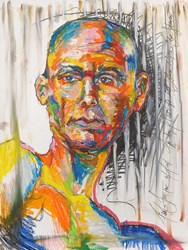 A portrait? It's a conversation between artist and muse sharing intimate space. I ask, 'What are your passions? What are the obstacles you have faced?" That conversation informs and creates the oil portrait.
Santa Fe, NM (PRWEB) November 05, 2013
Hosted by Music Commissioner David Schwartz, Firestone appeared alongside songwriter Sean Healen and revealed how she finds inspiration, snares that elusive creative muse, and produces her exceptional Spirit Capture oil Portraits. These eight strategies, combined with talent and hard work, have helped Firestone achieve an inspiring body of work, and entrepreneurial career in fine art.
1. Be Grateful
A lack of gratitude leads to a lack of motivation. Firestone says, "I give thanks every day for my eyesight. And [referring to an audience member] for my ability to see your eyes, Paul, and your beautiful smile, Sandy….all the colors in you that I don't see in other people. At any moment, my vision could go away. I contemplate that. I am really grateful for the smallest things."
2. Collaborate
"Most portrait artists like the subject to sit still, to be quiet," Firestone notes. "A sitting is a conversation between two people in an intimate space. I ask people, 'What are your passions? What do you love? What are the obstacles you have faced?' The sitting becomes a conversation that just lights people up." For Firestone, portraits are records of an honored exchange between two people. "I choose to move an energy into the oil portrait. My portraits are like a prayer for that person's dreams."
3. Practice Honoring the Muse
Revered by the ancient Greeks as the goddesses of artistic inspiration, today's notion of the muse is less formal but valuable to fuel creative expression. This divine energy can be elusive, and needs to be honored. "When the muse visits, give credence to it. Honor it as a visitor and pay attention." In other words, stop what you're doing and draw, write down, or record the creative idea that's presenting itself to you.
4. Expect What You Desire
When she was only three years old, Firestone lost her mother to cancer. "Right before she died, she said to me, 'Look for me in other people's eyes,' and… I think as a three year old I literally started looking for my mom in other's eyes. My mother was very loving in the short time that I had her, so I think when I meet people that I really have this expectation of love, generosity and kindness." Creativity does not exist in a vacuum—from the adversity she faced in her mother's death, Firestone cultivated a receptiveness that makes her portraits come alive.
5. Be Entrepreneurial
The romantic notion of the starving artist is a persistent idea. Today, the business of creativity has never been more important. "I recognized early on that no one was going to feed me but me… so I actually have two careers going on all the time. I study business and social media. I work diligently at my art business 5–6 hours a day, play part of the day, and then I work in studio." If artists don't take an active role as moneymakers, their creative work will suffer.
6. Confront Your Fear
Firestone believes that doing what she fears frees up her creativity. "One birthday, I decided to pick my greatest fear and just do it. I went skydiving—the scariest thing imaginable. Then I scuba dived in Shark Alley. Creative expression is supported by jumping into that which scares the hell out of me."
7. Build Support
Artists are buoyed by positive, encouraging people in their lives, and liberated when Negative Nellies are removed. Cut the cord with those who impede your creativity. "It is important to rid yourself of those not supportive of your dreams. 'God bless you, on your way, goodbye.' Cling to people who love and support your visions."
8. Give Back
Firestone asserts, "Give to the community that supports you." She donates a percentage of her commissions to philanthropy. Her exhibition at Casweck Galleries helped raise $1,546.00 +3% of show sales to support The Food Depot, a non-profit organization that strives to eradicate hunger in Northern New Mexico. Firestone recognizes that it charges her creative batteries to volunteer, donate, and be connected to community members in need. http://www.theFoodDepot.org
Robbi Firestone is a fine artist known for her sought-after oil portrait commissions, called Spirit Capture Portraits, which deftly reflect subjects' inner selves, and hopes and dreams, as well as the faces they show the world. Subjects include Michael Beckwith of bestselling book and film, "The Secret," Bart Millard of best-selling band MercyMe and 3-time Grammy Winner, Keb'Mo'. Learn more about Spirit Capture Oil Portrait Commissions and Robbi Firestone's work at http://www.RobbiFirestone.com/.