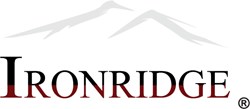 "We find the PIPE's Conference well worth attending" - Brendan T. O'Neil, CFA
New York, NY (PRWEB) November 04, 2013
Ironridge Global Partners, LLC, an institutional investor making direct equity investments in micro-cap public companies, will meet senior management teams of attending companies and other leading professionals at the 10th Annual PIPEs Conference on Novenber 4, 2013. The New York City Conference is being held at The Westin New York at Times Square 270 West 43rd Street (at Eight Avenue), New York, NY 10036.
"As an active investor in the micro-cap public markets, we find the PIPE's Conference well worth attending," commented Brendan T. O'Neil, CFA and Managing Director of Ironridge Global Partners. "At the end of another successful year during which Ironridge surpassed our 50th transaction and launched several sector initiatives, we are pleased to return to The PIPEs Conference to meet with more emerging micro-cap companies that could benefit from an Ironridge financing. The PIPEs Conference has proven to be an impactful, professional networking and educational event over the last decade. I remember attending the very first conference a short 10-years ago and commend Steven Dresner and his team at DealFlow Events for having such a great annual conference."
Steven Dresner, Founder & CEO of DealFlow Analytics, Inc commented "A decade ago when DealFlow launched The PIPEs Conference we had no idea how influential this event would become. Although the markets have changed, we've stayed true to our original goal – to provide an unparalleled forum for education and networking. This year we return to our roots in New York City to celebrate The 10th Annual PIPEs Conference."
This year's event will feature all of the topics of importance to professionals in the small-cap equity market. The agenda will cover more than just direct investments and PIPEs, it will also feature sessions on reverse mergers and SPACs, stock trading issues, legal issues, and the latest funding structures. Ample time will also be given to discuss how technology is changing the market, including the migration from traditional brokerage businesses to online funding portals, and what the new regulatory landscape means for issuers, investors, and intermediaries.
About Ironridge Global Partners
Ironridge Global Partners, LLC is an institutional investor, making direct equity investments in micro-cap public companies. Its Liability for Equity (LIFE™) program allows public companies to satisfy trade payables, debts and other liabilities in exchange for unregistered common stock utilizing a Section 3(a)(10) fairness hearing. Ironridge Global is the industry leader in this innovative financing structure, which substantially reduces the transactional costs and time necessary to complete a deal. The fund has entered into more than 50 equity financing transactions since 2011, ranging from under a quarter million to over $15 million each. Ironridge Global seeks to be a long-term financial partner, assisting public companies in financing growth and expansion by supplying innovative funding solutions and flexible capital. For more information on Ironridge Global Partners, please visit http://www.ironridgeglobal.com
About DealFlow Events
Since its inception in 2002, DealFlow Events has hosted over 200 conferences covering alternative asset markets. DealFlow events are the signature programs in their respective markets, bringing together the leading practitioners in each field with major sponsors servicing the market. DealFlow events are seen as opportunities for education in addition to networking with colleagues. The tag line "A DealFlow Event," carries clout, which is why it's always included in the event branding. Program managers develop each program by vetting the major issues and trends surfacing over the course of the year. At all times, the focus is on providing attendees with the highest quality content possible. The program always comes first.
Contact:
Ironridge Global Partners, LLC
Brendan T. O'Neil, CFA – Managing Director
415-658-9545
boneil(at)ironridgeglobal(dot)com
DealFlow Events
Eric Salvarezza
131 Jericho Tpke. PH3
Jericho, NY 11753
Phone (516) 876-8006
http://www.dealflowevents.com