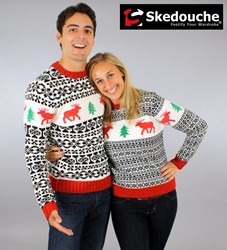 Skedouche is the GLOBAL LEADER in Tacky Christmas Sweaters and Accessories
Ashburn, VA (PRWEB) November 05, 2013
Skedouche has done it again, with more new products and an expanded line of Christmas sweaters, vests, dresses, and accessories – everything from unique sweaters that make a tablet or smartphone part of the display to Christmas sweaters for wine bottles.
Two high-tech Christmas sweaters are guaranteed showstoppers for 2013: The brand new Fireplace Tablet Sweater takes tech to a new level with a clear plastic snap-on pouch that holds an iPad, Kindle Fire, Surface, or other tablet. Download and run a fireplace app and watch everyone light up with envy.
Or try the new Lazy Santa Sweater with phone pouch. Play a classic Christmas movie or TV show on a phone, place it in the integrated plastic pouch, and it looks like the Santa relaxing on the sweater is watching a show. And everyone will be watching the sweater in amazement!
That's only the start. Skedouche has more new sweater designs for men, and has doubled the number of sweater designs for women and kids, and even dogs. Plus there's a whole new line of matching Sweaters for Wine bottles. And Skedouche Christmas sweaters come in more colors and sizes than ever before.
Of course Skedouche is a lot more than sweaters – it's everything festive like Christmas Vests and Sweater Dresses in more designs, which look great with the new matching Women's Sweater Boots. And top an outfit with new Christmas Knit Caps in popular designs plus more styles of Santa Hats – even the "Dreaded Santa" Hat with dreadlocks. The new products and designs just keep coming from Skedouche.
Look for old favorites too, like Lighted Christmas Sweaters with tiny LED lights controled by a remote. (Skedouche pioneered lighted sweaters and is still the premiere place to buy them in the US.) And don't forget the popular 3D fireplace sweaters with detachable stockings, and the "naughty" line of risqué reindeer, snowmen, and much more.
Skedouche is the GLOBAL LEADER in tacky Christmas sweaters and accessories. And there's a reason: Skedouche offers high-quality, well-made sweaters that will last for years – not the costume-grade sweaters made from thin, cheap material like some of their competitors. All of their other products and accessories meet these high Skedouche standards as well.
Since it was founded in 2009, Skedouche has earned a reputation for offering the highest quality products coupled with legendary, no-hassle customer service. Their customers agree – check out their reviews at http://www.skedouche.com/reviews.aspx.
To make their service even better, in 2013 Skedouche moved their offices and warehouse and now have double the space. Plus they are only minutes away from the FedEx World Service Center and Dulles International Airport, so their packages fly out of the warehouse and quickly begin their journey with guaranteed delivery through FedEx.
Skedouche has the winning formula for festive Christmas sweaters, accessories, and service. (Just ask Jimmy Fallon, who has featured Skedouche sweaters in his "12 Days of Christmas" skits.) Visit their easy-to-shop website for the best in for original, creative, and unique tacky Christmas sweaters, apparel, and accessories. Festify Your Wardrobe at Skedouche.com.