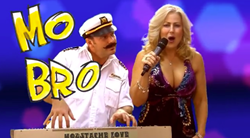 I want to put that worldwide exposure to good use
Kelowna, BC (PRWEB) November 04, 2013
Lori Welbourne's love of the 'mo' makes her sing - especially when it's on a fireman. The talk radio host and viral video sensation has released another funny bit, this time for the Movember campaign.
See video here.
'Moustache Love' features a fine looking lip-warmer on a local fire chief, with her and a nautical captain spoofing Captain and Tennille. "If you've seen my last couple of videos, you'll know I have a good set of lungs for singing," she jokes.
Welbourne went viral with her now legendary topless interview with the mayor of Kelowna, BC. The humorous video reached over 3.3 million YouTube hits and became a global news story two months ago.
"I want to put that worldwide exposure to good use," she said. "I'm hoping this video helps the relatively new Movember campaign continue to gain momentum raising awareness and funds for men's health."
Welbourne has pledged 100 percent of the revenue generated from 'Moustache Love' directly to the charity.
Unlike her previous videos with the mayor, YouTube advertisements have been ordered for this one. "Adding ads to video content is great for charity fund raising," she said, "The more it gets shared, the better for the Movember team. It's such a fun and worthwhile charity."
North Westside fire chief, Doug Gardiner was happy to get involved despite being unfamiliar with the mayor interview. "I've never seen it," said Gardiner. "Lori's a really fun gal... it was a lot of fun working with her." The chief also seemed happy with his moustache. "It's definitely got a bit of a handlebar look to it."
It's not all about the 'handlebars' though. Lori gets lyrical on the importance of the PSA screening.
1 in 7 men will develop prostate cancer during his lifetime, and 1 in 28 will die of it. Prostate Specific Antigen testing can provide early detection of abnormalities, say the BC Cancer Society.
As well as prostate cancer, the organization aids men's testicular cancer and mental health.
The popular columnist's uncle was diagnosed with prostate cancer two years ago, so she saw how vital early detection is in saving a life.