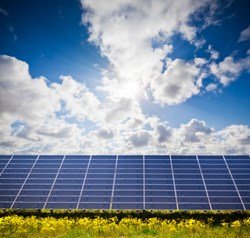 Exciting Financial Partnerships are Available for Individuals and Solar Equipment Manufacturers
Asheville, NC (PRWEB) November 03, 2013
Innovative Solar Systems is one of the largest solar farm developers in the United States and has rolled out an exciting new program offering land owners and solar equipment manufacturers a way to invest and become financial partners in our utility scale solar farms both in this country and abroad. ISS is based in Asheville, North Carolina and currently has over five hundred megawatts (500MW's) of large scale solar projects awaiting approvals in NC alone, but is currently developing projects in other areas and partnering up with both individuals and companies to increase the size and reach of our company in the area of commercial scale solar farm projects.
The current range of projects involves anything from 2.5MW size projects on 15 acre land tracts all the way up to 800MW size projects on 4000 acre land tracts. Most of the larger solar farm projects, however, are in the range of 35MW to 100MW in size for many reasons. ISS has become one of the most cost effective solar EPC companies in the country and is currently offering these large solar farms for $1.30 to $1.40/watt total installed cost while utilizing tier one bankable panels, inverters and racking equipment. No one in this industry has the level of expertise that Innovative Solar Systems brings to the table. Investors and owner operators of all sizes and types are looking to these types of projects to supply their renewable energy needs over the next five years. ISS is growing at a record pace and we welcome investors and partners of all types.
Land owners with as little as 15 acres and an investment of $100,000 upfront can form a financial partnership on a given solar farm project with ISS that will yield them great long term streams of income from part ownership in the project. OEM's (Original Equipment Manufacturers) will want to invest as little as $150,000 in these larger projects to become an equal financial partner in these projects and to also have a home for their equipment on a given project. There are no other solar farm developer/EPC type companies in this industry that are offering individuals and equipment companies a financial stake in large solar farm projects. We believe in the old saying that there is strength in numbers and we prefer to develop and install more projects and in more states rather than purely maximizing profits on just a few projects. Give the ISS team a call today to see if these types of financial partnerships work for you or your organization.