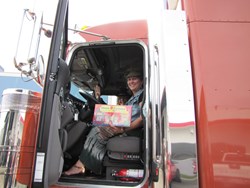 This was truly a dream come true! - Lorraine
(PRWEB) November 18, 2013
Lorraine Strieby recently was juried into Volumes 8 and 9 of International Contemporary Masters and will be one of the artists to represent them in the Southern Nevada Museum of Fine Arts in Las Vegas and the Los Angeles Convention in 2014.
But now she is smiling for an entirely different reason. On November 7, 2013, something magical happened. She got up early, pulled on her silver and black jeans, cowboy boots, and black hat, and put on her make-up for a very special photo opt.
As the creator of the popular board game WannaBtruckers featuring 18 Wheeler Big Rigs and their drivers, Lorraine got the opportunity of a lifetime to ride in a beautiful new burnt orange Peterbilt. Her journey started when Mr. Andy Carrillo, Sales Manager for the Sylmar Rush Truck Center, saw her off at 11:00 am. From there she traveled in style to the Rush Truck Center in Pico Rivera, CA.
"The event was truly magical!" Lorraine exclaimed. "The truck was so beautiful that we constantly got stares from the other ordinary cars and truck drivers going down the Interstate 5 in Los Angeles (an Interstate that is featured in the game.)"
Her brother, Mr. Charles Ayer, and daughter, Lori Constantine, were instrumental in Lorraine receiving this special treatment. A red carpet was waiting for her upon her arrival!
According to Mr. Dale Snowden, Sales Manager, and Jerry Conrad, General Manager of the Rush Truck Center in Pico Rivera, this was an important day for Rush Peterbilts because it was Rush Center Customer Appreciation Day. Lorraine helped the celebration with her related game.
The event was held at the Rush Truck Center, 8830 E. Slauson, Pico Rivera, CA. Lorraine brought with her her WannaBtrucker games that were auctioned off with other awesome gifts and at the event guests also saw a print of her original painting "Desert Schooners" which inspired the board game box. The painting itself was inspired by trucks lined up at Speedy's Truck Stop, owned by the Navajo Nation. Coincidentally , her truck driver, was Anthony Cruz from Edy's Transport and he is part-Navajo! Also there was the popular In-and-Out Burger Restaurant Chain serving the many guests.
Laura Brodian Freas wrote in her article for Patch: "Lorraine Strieby, An Artist of Many Talents:
Her then three-year old grandson, (Marc Lawrence Constantine Magistro) thought that counting trucks on the road was great fun, so she created an interactive educational counting game for three year olds and their families: "WannaBtruckers." Designed to be played while traveling the Interstates. The 18-wheeler Big Rigs on the road are part of the game. It is a counting game.
No batteries needed and the whole family can play on any Interstate. Important point, it features Interstate 40, the old Route 66. It has its own web site.
For the holidays she sells the game (two for one) on Amazon because Lorraine believes that each player should have his/her own delightful informative map to play the interactive counting game WannaBtruckers which is not only fun to play and look at it but also honors those wonderful truck drivers that are among the safest drivers out there on the US Interstates and the magnificent 18 wheeler long haulers that are a part of the delivery transportation of our great nation. This game will cut down the old question "Are we there yet?" WannaBtruckers was made in the USA with green products and is shipped from Battle Creek Michigan. It is sold on Amazon in "Toys and Games."
WannaBtruckers board game would be a fun game to buy for children and grandchildren for that trip on any Interstate.
For more about Lorraine Strieby, visit her websites http://www.lorrainestrieby.com/ and http://www.wannaBtruckersboardgame.com/. You can also find the game on Amazon.com where she is currently selling her games at a 2 for 1 price for the holidays.