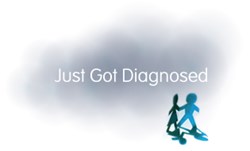 Maybe the symptoms passed fairly quickly, or maybe help was needed. Either way, didn't go unnoticed.
New York, NY (PRWEB) November 05, 2013
Dr. Gary McClain has published a new article, "Symptoms at work? Here's how to handle any awkward fallout" on his website, JustGotDiagnosed.com. A specialist in the emotional impact of chronic and catastrophic illnesses, Gary McClain, PhD, developed JustGotDiagnosed.com to address a serious need he saw going unfulfilled; namely, a way for newly-diagnosed patients to receive help in coping with their emotional reactions to their diagnosis. Dr. McClain also blogs on the online patient community site, AllianceHealth.com, where this article was originally published.
"The day can start out as a day like any other day," McClain said. "An employee who is living with a chronic illness is at work, doing his or job as they always do. And they are suddenly hit with symptoms of their chronic condition. Maybe the symptoms passed fairly quickly, or maybe help was needed. Either way, the symptoms didn't go unnoticed."
"Until this occurrence, co-workers may not have known about the chronic condition," McClain continued. "But not anymore. And employees in this situation are left to deal with the fallout."
McClain's guidelines include:
1. Saying thank you to any co-workers who may have been helpful when the symptoms occurred
2. Expecting that co-workers may discuss this event with each other
3. Providing reassurance through an upbeat attitude and demonstrating the ability to handle daily tasks
4. Educating other employees who may have questions or concerns
5. Not being surprised when other employees change their behavior, at least in the short-term
6. Knowing one's rights in terms of workplace protections for individuals living with a chronic condition
7. Proactively having an emergency plan in place in the event that symptoms are life-threatening
"I encourage my clients to take good care of themselves," McClain concluded. "Physically. Emotionally. At home. At work."
About Dr. Gary McClain and JustGotDiagnosed.com
Dr. Gary McClain is a therapist, educator, patient advocate and author who specializes in working with individuals who have been diagnosed with chronic and catastrophic medical conditions, focusing on issues that include coping emotionally, gathering information, making lifestyle and treatment decisions, managing relationships, and communicating with healthcare professionals. As "Dr. Gary," he blogs on patient social networking boards on AllianceHealth.com. Founded and developed by Dr. McClain, JustGotDiagnosed.com offers information, guidance and inspiration for newly diagnosed patients, their caregivers, and healthcare professionals. His program for newly-diagnosed patients, Prepared for the Road Ahead ™, is focused on the emotional, lifestyle management, communications, and vision for the future. Visit JustGotDiagnosed.com.