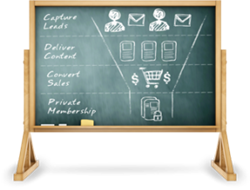 "...best system I've seen on the Internet today. You have access to a whole community of like minded members..."Russel Brunson
Michigan (PRWEB) November 04, 2013
Starien is headed by brainchild, internet entrepreneur and founder, Geoffrey Moffett.
Starien is a place for next generation networking. It bridges the gap between fun social networks like Facebook and purely professional hubs like LinkedIn.
Starien also offers unparalleled opportunities for members to build their brands online. The network has been cleverly designed to help position deserving entrepreneurs as experts within their field by encouraging the creation of quality user generated content.
Bring Your Connections to life.
While Starien is an online network, the concept stretches much wider than online spaces can reach. Starien actively encourages offline interaction, urging its members to 'bring their connections to life'.
While it is undeniable that online networking has delivered fantastic results for many businesses it has also left millions baffled on how to use social, there are many instances where offline interaction is vital to the success of business relationships and deals. It is for this reason that Geoffrey Moffett says that Starien will focus strongly on both large and small face to face gatherings; providing added impetus to the online Starien community.
Although the official launch date has only just landed, Starien already has an active membership of likeminded business owners and entrepreneurs. In the 4 weeks in the run up to the launch, the site has already received 170,000 visits, with 63% coming from natural search alone, and is already home to 138,000 articles and blogs with over 800,000 comments.
In a nutshell, Starien is about sharing, learning, trading, meeting and collaboration and the network, very much like its founder, demonstrates an unmatched passion to assist and inspire business owners to grow themselves and their businesses.
Geoffrey Moffett says "The honeymoon is over with social and businesses and it is time that business owners leveraged social for business properly, Starien is here to provide the functions and features to achieve just that"
To find out more about Starien and how it can help your online business, Click Here.