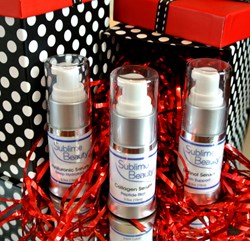 The Sublime Beauty® Christmas Box sets of serums, or serums and jewelry are on pre-holiday sale now, and buyers benefit from free shipping through Amazon.
St. Petersburg, FL (PRWEB) November 10, 2013
Gift giving season is here, and its time to get on top of your holiday shopping by benefitting from some pre-holiday sales.
Sublime Beauty® has matched three popular serums - Collagen, Hyaluronic and Retinol - together in Christmas Box and red cello fill for triple impact. It is a delightful gift they will be happy to receive.
"This would be a great Christmas or Hanukkah gift for anyone (man or woman) who likes to care for their skin and appearance," says Kathy Heshelow, founder of Sublime Beauty®. "Each of these serums are popular with men and men, and are well-rated!"
The company has produced a short fun video with Nutcracker Suite music highlighting this gift.
Sublime Beauty® put together a Christmas Gift Guide that can be downloaded or viewed on its website. The guide includes little stocking stuffers as well as a number of Christmas boxes with serums and jewelry. "We wanted to make gift giving easy and simple with quality gifts and a ready-to-give box," says Heshelow.
Most of the Christmas boxed gifts are on pre-holiday sales now, and they are in limited supply just for the holidays. This gift is marked down 30% for the early sale.
Sublime Beauty® offers its products through Amazon so buyers can benefit from free shipping. The company is launching an Amazon webstore this month as well.