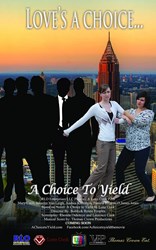 The drama and friendship connections will make you think of your own inner circle of friends; at times making you wish you could jump into the story to share your thoughts with these characters. - K. S. Redlack March 28, 2013. Amazon
Santa Monica, CA (PRWEB) November 05, 2013
Former service members hope Veterans Day brings them luck with a movie distribution deal at the 2013 American Film Market in Santa Monica November 7th – 12th. RLO Enterprises LLC (RLO) has reached out to several in hopes of a face to face meeting to construct a distribution deal for the movie "A Choice to Yield." The movie is based on the novel A Choice to Yield by Lonz Cook. The movie premiere is February 2014 in Atlanta, GA.
We, nearly have 75% of the people involved with making the movie A Choice to Yield, served in the Army, Navy, Air Force and Marines and were in positions from behind the camera to in front of it. There were actors who marched at Paris Island, as well as an actor who drove heavy equipment for the Navy's infamous Construction Battalion. Our leading man deployed to Afghanistan and Iraq on two tours with the Army. We had extras who wore rank insignias of an eagle, a gold oak leaf, and one who wore a star with stripes serving as Marines. Our director wore Army camouflage in the fields as a cook and our house musician pushed liquid gold in Desert Storm. In addition, we had a camera man who sailed the seven seas on a combination of ships. The executive producer used leadership skills she learned from the Air Force. And an important member of the crew was the caterer who served as an Air Force Security Police Officer Trainer. There were other extras who served and some still serving in the Reserves and National Guard.
RLO hopes movie goers leave with the same emotions as those who read the novel: "The drama and friendship connections will make you think of your own inner circle of friends; at times making you wish you could jump into the story to share your thoughts with these characters." K. S. Redlack March 28, 2013 Amazon.
http://www.IMDB.com/title/tt3085778 and http://www.Facebook.com/Achoicetoyieldthemovie.
Movie Production companies:
The Peoples Network is an Atlanta video production company concentrating on the development of powerful and creative video production projects in the Atlanta Metro area and beyond. We offer high quality, attention-getting results that are designed to meet and achieve the specific goals and/or target markets of each individual client.
Three Peace Production is a comprehensive multimedia endeavor. Our areas of development include photography, cinematography, videography, and music production. We are involved in short to feature length film projects, web series, music videos, EPK's, and live events.
Soundtrack produced by Thomas Crown Production in Atlanta and will hit the airwaves November 18th on CDBaby.com.