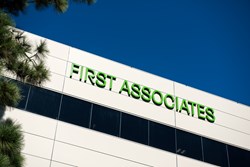 . . . Committment to maintaining a high level of internal control.
San Diego, CA (PRWEB) November 05, 2013
First Associates is pleased to announce the successful completion of its annual SSAE16 II audit. First Associates, a leading provider of loan and lease servicing and other support functions for originators and financial institutions, received an unqualified report - again.
SSAE 16 is a recognized third-party assurance audit for service providers. In 2011, it effectively replaced its predecessor, the Statement on Auditing Standards No. 70 (SAS 70 Type II), as the leading compliance initiative for service organizations. To ensure a comprehensive audit identified 12 areas of control, including enterprise-wide management systems, policies and procedures, network operations, data, change management, design and development, implementation, security, computer controls, and accounting and billing processes. In business since 1986, First Associates has consistently received unqualified reports.
First Associates received an unqualified report as a result of the audit. An "unqualified report" means the control measures are effective and resulted in no findings. "Receiving an unqualified report from a respected third-party auditor is an important part of our self-governance," said David Johnson, CEO, First Associates, "Our goal is to make sure every client receives the strict regulation adherence, streamlined processes, and best practices they have come to expect from us. Auditing is just one of the ways we make sure we are delivering on our promises to clients. First Associates' management understands the ever increasing importance of corporate governance, as well as the impact of the organization's services on our clients' system of internal controls. The successful completion of the 2012 SSAE16 II audit is only part of First Associates' continued commitment to maintaining a high level of internal control."
First Associates provides mission critical functionality to its clients in many areas including Backup Servicing across multiple consumer asset classes, Loan and Lease Origination and Servicing, Delinquency Management and other support services such as Regulatory Document Management and Verification Programs.
About First Associates Loan Servicing
First Associates is the nation's premier servicing firm comprised of a team of professionals with world class experience, first-rate knowledge and exceptional technology. First Associates provides best-in-class servicing for titled assets and unsecured loan and lease portfolios with a staff that is committed to providing the highest level of service to borrowers while maximizing lender and investor returns. More information is available at http://www.1stassociates.com.