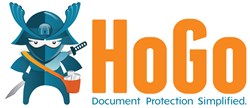 Unlike other file sharing sites, HoGo protects documents even after they have been downloaded.
Manchester, NH (PRWEB) November 04, 2013
HoGo Inc. announced today that its secure document sharing platform HoGo has gone live. The service is available now at http://www.hogodoc.com and provides users an easy way to copy-protect, share, and manage PDF documents online.
Every day, individuals and companies share confidential and/or private documents online. In most cases, these documents are vulnerable to leaks, unauthorized use, or theft. Documents sent with HoGo are encrypted, and can only be viewed by the intended recipient. Unlike other file sharing sites, documents sent with HoGo cannot be copied, forwarded, or otherwise misused even after they have been downloaded to the recipient's personal computer or mobile device. HoGo also gives the sender the tools to control permissions such as how long a document is available, and whether it can be printed or not.
"The risks to private and confidential documents are greater than ever. While file sharing services may offer secure storage of files, once the files are downloaded they are no longer protected. HoGo gives users the ability to protect their documents even after they are downloaded, ensuring that sensitive information does not end up in the wrong hands. "
-- Hiro Kataoka, CEO, HoGo.
While DRM (Digital Rights Management) and IRM (Information Rights Management) software has long been available to large enterprises, these solutions are often too complex and too expensive for widespread adoption. HoGo makes secure document distribution easy to use and available to everyone as a freemium online service. It is ideally suited for protecting and sending confidential business documents, private personal information, and legal documents as well as for distribution of copyrighted works such as e-books. All users can send up to 5 documents per month free of charge, and additional points may be purchased with a credit card higher volume use. Corporate and Partner plans are available by contacting HoGo.
Presentation – How to Protect and Share PDF Documents Online
About HoGo, Inc.
HoGo, Inc. was founded in 2012 to provide innovative solutions for online content security and distribution. The Company is headquartered in Manchester NH.