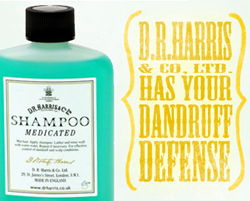 18 century formulas to your contemporary touch
Toronto, ON (PRWEB) November 05, 2013
With Holiday shopping on the horizon, Canada based luxury retailer Kaliandee has expanded their range of products from D.R. Harris, the London based purveyor of high-end grooming and bathroom essentials since the 18th Century. The new additions include shaving products and fragrances from D.R. Harris's new Windsor range, all of which feature the complex and versatile Windsor fragrance. There are also new products arriving from the best-selling Arlington range.
D.R. Harris were established as a chemists and perfumers in 1790, a time when most chemists formulated many of their prescriptions in-house, and it was entirely natural for the company to turn those skills to producing fragrances and grooming products. D.R. Harris remains a functioning pharmacy as well as a manufacturer of grooming goods, and holds the distinction of being the only pharmacy with a Royal Warrant. Their St James Street location is one of the more notable shopping destinations for any gentleman visiting the fashionable Mayfair area of London.
In an interview with Julian Moore from D.R. Harris, the full text of which can be found on the Kaliandee website, John from Kaliandee learned a little about the brand's strengths.
D.R. Harris still stays true to their beginnings, and uses original formulas for some of their products; "From the very early days, D.R. Harris became well known for our Classic Cologne and Lavender Water. These are still hand-made in small batches, following the original recipes, in our warehouse in London". A big part of the luxury appeal of the brand is the high standards to which their products are made. "Almost every item we sell is made in the UK and I think it's something our customers expect and respect. The only product that isn't is our toothpaste which is made in India as we couldn't find a UK manufacturer.... most of our packaging is also made in the UK".
While for many men the appeal of brands such as D.R. Harris is the sheer luxury of finely made, exquisitely scented products with the weight of tradition behind them, most of D.R. Harris's products are remarkably economical as well. Simply put, when the product is this good, you need very little of it, especially where shaving soaps and creams are concerned. The Arlington shaving cream, D.R. Harris's bestselling shaving product, is as well known for its excellent lathering performance as for its subtle but refreshing scent.
Perhaps because they began as (and still are) a pharmacist rather than a barber's, D.R. Harris are very strong hair, body and grooming products in addition to their shaving line. Among their more noteworthy everyday products are the Arlington and Windsor deodorants, both of which are of a much higher quality than the mass-market alternatives. The Arlington scent is available as both an antiperspirant and a non-antiperspirant deodorant, while the Windsor scent currently comes only as an alcohol-free stick deodorant, ideal for sensitive skin. They also still produce a range of very traditional fragrances, such as their Bay Rum aftershave, Freshening Cologne and Lavender Water.
The Windsor range is arguably the star of the new products. Windsor is a more contemporary scent, but with a dignity and complexity befitting both D.R. Harris's heritage and the family, in whose honour it is named. Opening with refreshing top notes of citrus and grapefruit, before maturing into warming black pepper and vetyver, Windsor is an all-round scent. Fittingly, all of the Windsor products are made in the UK to the highest standards, and supplied in robust yet stylish UK made packaging.
Kaliandee is a top online destination for quality shaving and grooming products, whether you need essentials like best badger shaving brushes, accessories such as shaving brush stands, or premium items like the highly decorated Dovo straight razors. As well as supplying grooming items, Kaliandee is also a source of advice and information, helping men to make good skincare choices.
For more information on wet-shaving and grooming topics, see Kaliandee's advice page or blog.