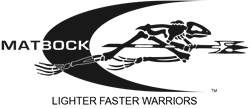 "We understand the need to be not only innovative, but also provide our customers the best products and have them available 24 hours a day, seven days a week."
Virginia Beach, VA (PRWEB) November 05, 2013
MATBOCK, a debt free, service-disable veteran-owned and operated small business, launched a unique product line of tactical gear in November 2011. Since its inception, MATBOCK has seen consistent growth and positioning in the marketplace. As an independently owned, service disabled veteran operated company, MATBOCK uses innovation and experience to build specialized gear to give military, law enforcement, and even civilians products that offer maximum advantages in multiple situations.
With 18 years of combined Special Operations Forces (SOF) experience, the backbone of MATBOCK is two professionals who work 365 days out of the year. "Our warriors deploy without any days off and we will be here to answer their needs all day every day," said Sean co-founder & CEO of MATBOCK. "We understand the need to be not only innovative, but also provide our customers the best products and have them available 24 hours a day, seven days a week."
2013 has been a successful 2nd year in business for MATBOCK as four new products were introduced to the marketplace, and each have quickly become appreciated as necessary items amongst elite Special Forces and other operators. Boasting over 2,000 percent growth heading into 2014, MATBOCK has a list of products to introduce in 2014, proving their stability and commitment to excellence and innovation.
Starting with the launch of the Tree-GO IZLID Pouch and ending 2013 with the launch of the long awaited Tarsier Eclipse, MATBOCK has received great praise throughout all markets about the diversity, quality and innovativeness of their product line. For example, with MATBOCK's S-LIFT, Police Officers in urban areas are now empowered to succeed in mass casualty situations. Black bear hunters in the Northeast are using the S-LIFT and Combat Carbon Poles to pack out their big game. Lastly, our combat warriors overseas are using the S-LIFT to rescue and evacuate wounded every single day. "Our goal from day one was to bring something new to our military personnel and heroes around the world. With each new product we introduce, we want to look at every aspect and make sure nothing goes unquestioned. Ounces equal pounds and we will make sure that every ounce has a purpose for the operator," says Zach, co-founder and COO of MATBOCK. "We know what it feels like to carry wasted pounds or single use gear. We want to change that with every product we introduce."