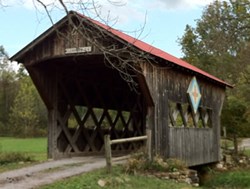 A Music Festival for Artists and American Folk Music Fans... a Terrific 4 Day Event in the Tennessee Mountains!Tom Roth, Festival USA
Unicoi, TN (PRWEB) November 05, 2013
For The Johnson City Folk Festival, a little cold snap on the East Coast could be good news for everyone.
Why?
It means that the stoves on every stage and the truckloads of firewood being delivered this week will be used to provide a little heat when needed... and create one of the most unique environments for any Americana Music Festival.
The Johnson City Folk Festival hosts over 40 performers on three stages, and everyone is prepared for a little cold weather. This is the 3rd year for the Festival and the regional and local community response has been the strongest to date.
Acoustic guitars, folk music, 40 performers and 75 acres of pristene East Carolina woodlands all come together in a dramatic musical environment. Deer, bear and friendly peacocks add to the sense of "natural magic" that The Farmhouse Gallery and Gardens exudes.
Every stage has a pot-bellied stove and there are two in the Main Theatre. These old iron stoves provide a very special heat and the hardwood used as fuel seems to bring out the best in American Folk Music.
The Performers come from all across the US but most come from the Golden Circle and The Mountain Kingdom area in East Tennessee. Performers this year include:
Ramblin' Rose (TN)
Reagan Boggs (TN)
Dixie Ghost (TN)
Emma Nelson (NC)
Senior's Express (TN)
Tim Avram (MI)
Peggy Ratusz (NC)
Ben Knight+Welldiggers (OH)
Keith Roberts (AL)
Jon Foulk (GA)
Baref't & Blindflded(TN)
Skip Cochran (TN)
Pat Spencer (TN)
Cowboy Slim (TN)
Lou Shields (IL)
Eric Sommer (CA)
Kate & Corey (Nash)
Possum Crossing (NC)
Bob Teeple (Nash)
Kyla Mainous (OH)
Lilac Love Sun (TN)
Rick & Jilda Watson (AL)
Andy Ferrell (NC)
Valorie Miller (NC)
Blue Murrow(TN)
The Littlest Birds (Knox)
Most of the acts on this year's roster are located in the Golden Circle - the area in, around and between Bristol, VA, Charlotte, NC, Chattanooga, TN, Knoxville, TN, Nashville, TN, Asheville, NC, Unicoi, Kingsport, Bristol and Johnson City. This is the real heartbeat of the Americana Music Scene, Home of Country Music (Bristol, VA) and dotted with countless venues, honky tonks and outlaw stages.
Tickets are $10 per day, $40 for the Festivals' entire four days and passes for The Johnson City Folk Festival in Unicoi, TN are available at The Unicoi Visitors Center, 106 Unicoi Village Pl Unicoi, TN 37692 Call (423) 735-0426. Tickets can also be purchased at The Covered Bridge on entrance to The Festival each day. Craft Vendor tents are $10 per day.
______________________________________________________________________________________
The Johnson City Folk Festival, Inc. © 2013, All Rights Reserved. Respective trademark and copyright laws protect the Johnson City Folk Festival and The Chet Atkins Guitar Competition. The Johnson City Folk Festival can be reached at 202-255-1995, All correspondence should be directed to Johnson City Folk Festival, Unicoi, TN.