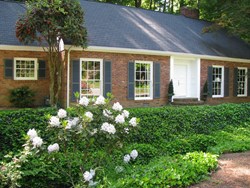 An online auction is a time-saving, practical, and straightforward way of selling many luxury items ... and is also an effective means for selling real estate in a transparent fashion within a defined period of time.
Atlanta (PRWEB) November 04, 2013
The best method for selling a luxury home in today's rebounding marketplace is often through an auction. No one knows this more than real estate broker Marc Morris, of Tidewater Properties of Georgia, LLC, who is teaming up with Interluxe, the foremost authority on online luxury real estate auctions, to market and auction a gorgeous Buckhead home.
The completely renovated and meticulously maintained home, located in the sought-after Castlewood neighborhood and within walking distance to Morris Brandon Elementary School, blends modern function with timeless appeal and beautiful aesthetic finishes. The starting bid of only $525,000 presents an astonishing value for the classic home, which was appraised in 2012 at $640,000.
"An online auction is a time-saving, practical, and straightforward way of selling many luxury items like coins, artwork, stamps, classic cars, and jewelry, and is also an effective means for selling real estate in a transparent fashion within a defined period of time" stated Morris. "Buyers and their agents can tour the property in person and online, examine pre-provided due diligence, place bids online, and ultimately transact in a way that eliminates headaches and hassles. Best of all, buyers can bid what they think the value is. The sales price is ultimately determined by the market."
The traditional brick home's open floor plan is the result of a comprehensive renovation and is well suited for both families and empty nesters. The large, remodeled kitchen with high-end appliances features an attached family room and butler's pantry. For formal entertaining, there is a separate dining room, large living room with fireplace, and a new powder room. The master suite includes a spacious bedroom, full bathroom, a walk-in closet, and a separate private office or sitting room with built-ins. There are two nicely appointed additional bedrooms with a full bath in between. An outdoor slate living room with fireplace nestled in a fenced back yard with mature professional landscaping creates a completely private setting that feels like a retreat in the mountains.
Online auctions attract a select pool of qualified and highly interested bidders nationwide and beyond, and are gaining favor with sellers of luxury properties who are looking for ways to distinguish their property to a global audience. Through Interluxe's "a la carte" customized professional marketing, home sellers choose from multiple tiers of advertising and marketing services to ensure their property stands out to as many qualified buyers as possible. Every agent and seller gets exclusive access to more than 100,000 luxury homebuyers in Interluxe's proprietary database. The result is that agents and sellers get their individual marketing needs met through completely customized promotions.
Buyers are provided access to due-diligence prior to the auction and may tour the property by appointment or at scheduled open houses. There are no contingencies, no hidden terms, and timelines for closing are established. Registration to bid is both easy and secure at http://www.interluxe.com. The final price is set by market demand, and opening bids usually are offered at a tremendous value.
The auction will start promptly at 11:00 a.m. EDT on Friday, November 15, 2013. Open houses are scheduled daily throughout the scheduled auction time period, with previews available by appointment. Buyers may schedule an appointment online or by calling (888) 415-5893. A credit card authorization of $5,000 is required to register to bid and will serve as the winning bidder's deposit until all contractual obligations are met. All other bidder's authorizations will be released following the auction and no charges will be made to those accounts. Real estate agents and brokers are fully protected and encouraged to participate.
Interluxe.com is the premier global online gateway where buyers, sellers, and their agents may convene in an open market forum to purchase and sell luxury properties valued in excess of $750,000 in destinations all over the world at auction online. Interluxe's platform is the first to exclusively represent high end, non-distressed properties through an accelerated and customized marketing process that obtains fair market value for sellers in a 45-day timeframe. The founder and principles of Interluxe have over 40 years of combined experience in the luxury real estate auction industry. Interluxe is a preferred strategic partner of Grand Estates Auction Company. For more information call (888) 415-LUXE (5893) or visit http://www.interluxe.com.