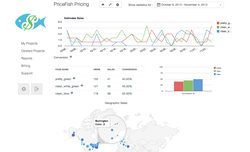 Since I started using PriceFish my sales have gone up 52%, believe it or not!
Tel-Aviv,Israel (PRWEB) November 05, 2013
A pricing page is what customers see just before they decide if they want to spend their money on a product or service. It is typically composed of two or three columns, each showing a different plan and its price.
But how can a business optimize its pricing page and why isn't everyone doing it?
"It's a hard and long process" says Amir, CEO at PriceFish, "companies usually try to increase their conversion rates by simplifying their wizards, adding 'freemium' plans and features, skipping registration parts - these are all decent methods, but making the user feel 'safe' in the pricing page would definitely seal the deal."
This is where PriceFish steps in. PriceFish lets companies select multiple designs from a large collection of professionally designed pages, and then customize it to their own needs, by filling-in the plans and features that they offer. In addition, it makes it possible to design the whole page, by adding web parts such as a FAQ and a detailed description of the product or service's features to help customers understand exactly what they'll be getting.
That by itself is already impressive, but there's more! After creating the pages and embedding them on the website, PriceFish immediately begins to intelligently collect information about how potential customers interact with the pricing page. It shows the estimated revenues for each variation and design, helping to figure out which page worked best. Geographical information automatically collected about customers is also included.
Having all this valuable analytics info allows for companies to optimize their pricing page based on actual performance and revenues, rather than just guessing.
"In the upcoming version we are going to add a new AI algorithm that will make it possible for the system to learn which page exactly your customer should see in order to maximize the conversion rate" says Shahar, PriceFish CPO, "our main goal is simplicity and ease-of-use - in just a few minutes anyone can generate multiple variations and designs to match their unique needs".
So go ahead and try PriceFish.