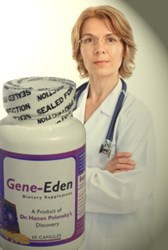 We invite doctors to contact us with their questions at: info(at)buy-gene-eden(dot)com or phone 585-250-9999. - polyDNA
Rochester, NY (PRWEB) November 04, 2013
A major problem faced by doctors who treat Hepatitis C patients, who are also drug users, is the patients' refusals of standard treatments. A study suggested that these patients refused treatment due to their fear of side effects, denial of their need for treatment, and concern about prohibitive cost. The study specifies the side effects, which frighten these patients. These side effects include depression, difficulty breathing, swelling in the face, weight loss, cramps, and bleeding gums (1). The result of these refusals is lack of treatment. "Only 35 % of those who reported receiving an HCV diagnosis received any treatment (1)."
polyDNA suggests to these doctors to learn about Gene-Eden-VIR as a possible solution for their dilemma.
"Habitual injection drug users comprise the majority of Hepatitis C patients worldwide. These individuals are averse to common HCV treatments. Thus, we at polyDNA recommend Gene-Eden-VIR, a clinically proven HCV remedy with no side effects, to doctors who are looking for a way to treat these patients." – Mike Evans, polyDNA
Another study discusses the population that accepts treatment. As it turns out, this population suffers from frequent reinfection. According to a study published in 2013 in the Journal of Infectious Diseases, "Injection drug users, who represent the major population experiencing new HCV infections in many countries, have a high risk of reinfection and thus might benefit most from interventions that can repeatedly prevent the establishment of chronic HCV infection (2)." Many doctors recognize the fact that drug users who inject drugs might get over an HCV infection. But, every time they use drugs again, they can reinfect themselves with Hepatitis C.
Gene-Eden-VIR has no side effects, according to a post-marketing clinical study (3). As a result, it is more suitable for continuous use, and therefore may be a prime candidate for patients suffering from a chronic Hepatitis C infection.
Gene-Eden-VIR was designed to help the immune system target chronic HCV, or latent Hepatitis C virus. In fact, Gene-Eden-VIR was shown to be safe and effective in a recent post-marketing clinical study. That study was published on August 21, 2013 in the journal Pharmacology & Pharmacy (3). The study reports that the natural product Gene-Eden-VIR safely and effectively decreases symptoms in individuals infected with the Hepatitis C virus (HCV) (3).
Study authors wrote that "We observed a statistically significant decrease in the severity, duration, and frequency of symptoms (3)."
To view the entire paper on Gene-Eden-VIR, visit http://www.scirp.org/journal/PaperInformation.aspx?PaperID=36101.
To learn more about Gene-Eden-VIR, visit http://gene-eden-kill-virus.com/HCV.php.
We invite doctors to contact us with their questions at: info(at)buy-gene-eden(dot)com or phone 585-250-9999.
###
References:
(1) http://link.springer.com/article/10.1007%2Fs10900-013-9782-x/fulltext.html#Sec1
(2) http://cid.oxfordjournals.org/content/57/suppl_2/S32.full.pdf+html
(3) http://www.scirp.org/journal/PaperInformation.aspx?PaperID=36101
polyDNA is a biotechnology company that develops dietary supplements using the unique scientific method developed by Dr. Hanan Polansky, which is based on Computer Intuition.
In addition to his unique scientific method, Dr. Polansky published the highly acclaimed scientific discovery, called Microcompetition with Foreign DNA. The discovery explains how foreign DNA fragments, and specifically, DNA of latent viruses, cause most major diseases.
polyDNA developed Gene-Eden-VIR, an antiviral natural remedy that helps the immune system kill latent viruses.