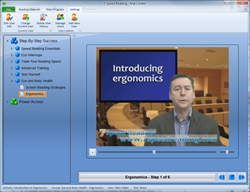 Speed reading training needs to be adjustable and intuitive...
New York City, NY (PRWEB) November 13, 2013
eReflect, parent company of the 7 Speed Reading™ software, announced today that the company is teaming up with Dr. Bruce Stewart of execuread.com to provide expert advice on how people can improve their speed reading performance and get most out of what they read. This new collaboration is expected to help many who struggle with overdue reading reports, books and other material by providing sound and valid techniques as to how to read faster and increase comprehension rates.
Execuread.com helps organizations, corporations and other institutes give their employees the speed reading skills capable of improving their other talents and capacities. In an interview with the 7 Speed Reading™ blog editor, Dr. Bruce Stewart revealed how speed reading success lies in a person's ability to integrate speed reading techniques to apply to any specific context and set of requirements.
Speed reading training needs to be adjustable and intuitive, something that is noted in the interview. Dr. Stewart told eReflect how the varied clients he has had at Execuread over the years testify to the fact that speed reading training adjustment is essential in anyone's effort for mastering speed reading.
Another tip Dr. Stewart shares with the blog editor at the 7 Speed Reading™ website is how face-to-face speed reading practice is another key factor for success. When the learner interacts with the teacher, it becomes immediately evident to the teacher how much speed reading potential the learner has. This level of personalized approach cannot be achieved through other speed reading training practices, he suggests.
Yet another important issue raised in the interview with execuread.com director Dr. Stewart is how speed reading needs to be accompanied by other skills, primarily information management skills, in order to be a complete and efficient skill. Such skills allow the reader to read purposefully, extracting meaningful information, overlooking fluff, connecting new knowledge with existing information, and putting it all together. This integrated approach to information processing is what will allow learners to take full advantage of their speed reading skills and improve their knowledge and professional efficiency, eReflect reported.
For more information about the benefits of using 7 Speed Reading, please visit the official website at http://www.7speedreading.com.
About 7 Speed Reading™
7 Speed Reading is the only modern speed reading software that uses the latest technology to produce superior results.
The software provides its users with a new way to master speed reading that guarantees three times the reading speed along with improved memory and comprehension.
The software is poised as the most comprehensive speed reading system anywhere. It contains seven learning strategies, fifteen software activities, video training, advanced tracking capabilities and many more exciting features.