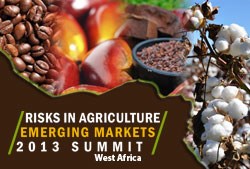 Accra, Ghana (PRWEB UK) 4 November 2013
With just 3 weeks to go, the Risks in Agriculture: Emerging Markets Summit hosted by global summit organiser, IRN will take place 26-27 November at the Mövenpick Ambassador Hotel Accra. Supported by the Africa Agribusiness Magazine (AAM), AIPH, APROCANCI, European Cocoa Association, Ghana Agri-Input Dealers Association (GAIDA), Vegetable Producers and Exporters Association of Ghana (VEPEAG), OPCN and TV3 Ghana.
This senior-level meeting will be looking to be joined by leading members of West African Governments with a grand opening from:

Hon. Clement Kofi Humado, Minister, Ministry of Food & Agriculture of Ghana
Hon. Dr. J. Sam Sesay, Minister, Ministry of Agriculture, Food Security & Forestry of Sierra Leone
Dr. Brédoumy Soumaïla Traoré Kouassi, Director General of Productions and Food Security, Ministry of Agriculture, Ivory Coast
Moussa Kaboré, General, Ministry of Agriculture & Food Security of Burkina Faso
The Risks in Agriculture: Emerging Markets Summit has drawn interest from International companies across the global as well as the local companies as the summit aims to cover key topics such as:
Plantation Risk
Commodity Risk
Geopolitical Risk
Supply Chain Risk
Risk Mitigation Techniques / Business Models
Meet the Expert Speaker Panel:
Julie Greene, Business Head for Cotton, Olam International
Arouna Lawani, First VP, Chamber of Agriculture, Bénin
Pierre Brunache Jr., West Africa Regional Director, African Fertilizer and Agribusiness Partnership (AFAP)
Rahul Gopinath Nair, Head of Africa, Armajaro
Olaf Kula, West Africa Program Manager, ACDI/VOCA
Joseph Desiré Biley, CEO, Tropical Rubber Côte d'Ivoire/Chairman of the Board, Fonds du Développement de l'Hévéa (FDH – Fund for Rubber Tree Development, Ivory Coast)
Dr. N V Krishna Prasad, Head of Agronomy – Cotton (Africa), Olam Ivoire
André Yao, Director, Agripolis
Robert Dovlo, West Africa CEO, Louis Dreyfus Commodities
Lionel Barré, Managing Director, Ghana Rubber Estates Limited
Pierre Bois d'Enghien, Head of Sustainability, Socfinco
Jude C. Uzonwanne, Director of Implementation, NIRSAL (Nigeria Incentive-Based Risk-Sharing System for Agricultural Lending)
Xavier Muron, Senior Investment Officer, Agence Française de Développement
Godfrey Mwindaare, West Africa Director, Acumen West Africa
Nicholas Camu, Group Sustainability Manager, Barry Callebaut
Dany Kaiser, Key Consultant, Consultancy Africa Intelligence
Dimeji Owofemi, CEO, Multi-Trex Integrated Foods Plc/ Executive Committee Member, World Cocoa Foundation
For more information about the summit and for registration inquiries, please contact Jessica Jonah at JessicaJ(at)irn-international(dot)com.
For speaker inquiries, please contact Marie Pegoud on MarieP(at)irn-international(dot)com.