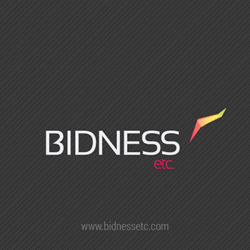 Revolutionizing Financial Media
(PRWEB) November 04, 2013
Bidness Etc, a financial media company that has created a stir with the launch of a beta version of its website, comprises more than 60 individuals with expertise in diverse areas of specialization – including finance, music and graphic design. Together, they are working on an ambitious project which they say will "pioneer a new era in financial media".
By combining cutting-edge research with aesthetically designed content, Bidness Etc says it is bringing the 99% back into the loop by presenting the best financial analysis in the simplest and most entertaining ways possible.
Bidness Etc operates with a simple, yet powerful philosophy: The company agrees that quality financial analysis requires a high level of intelligence, and that what is currently being reported by financial media is too far behind the curve to be of much relevance to the savvy reader. Bidness Etc positions itself as the solution to that problem: it presents itself as a platform that gives away the best information and analysis for free, thereby democratizing individuals' access to finance.
Bidness Etc's expertise in financial analysis has been distilled from a decade and billions of dollars' worth of trading experience, and dashed with insights from some of the brightest minds in the industry. The quality of their work speaks for itself: their analysts' forecasts for the 3Q earnings season so far have been spot-on. Citing that success rate, Bidness Etc says it can comfortably claim to be better at analyzing and reporting financial news than anyone else.
Bidness Etc has gone a step further by including slick, visually-appealing graphical elements in its reports, which it says have never been seen in financial media before. By doing so, the website claims it is helping readers easily absorb complex financial data as they go through different analyses.
And that is not all.
Bidness Etc has also incorporated an entertainment section in the website, which tracks the global zeitgeist and provides an offbeat take on the hottest topics trending on the web. Bidness Etc feels that this will take finance to the mainstream, and complete what the Bidness Etc experience is all about.
The company has been quick to point out that the current website is a beta version of its web portal, and that it has a major revamp scheduled for the month of November. Although the management remains tight-lipped about what it has in store for Bidness Etc readers, it does give a hint: it says financial analysis will never have looked better once Bidness Etc goes all out, and you'll know that the company has meant Bidness all along.