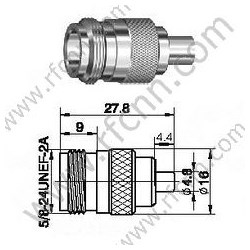 (PRWEB) November 04, 2013
Recently, RFcnn.com, a leading adapter manufacturer and wholesaler, has released its new MMCX adapter collection, and announced great discounts on these new products. Now, all of these new MMCX Adapters are now offered at discounted prices and could be up to 32% off.
According to the CEO of the company, MMCX Adapters are devices that convert attributes of one device to those of an otherwise incompatible device. The new collection of MMCX adapters is specially designed for the high end market. These new MMCX adapters are of top quality, like other products offered by RFcnn.com. In addition, they are priced much cheaper than other Adapters in the current market.
RFcnn.com is a well-known supplier in the industry, and it is popular for its premium quality adapters, especially the MMCX Adapters. All of the MMCX Adapters have distinct features. The company vows to provide the best products for its clients worldwide. It has introduced the most advanced technology and high end machinery from all over the world. Moreover, the company provides free courses for its clients to use to learn more about RFcnn.com's products.
The CEO of the company states, "We have over 10 years of experience in the industry. Our MMCX Adapters are offered at discounted prices. Please take advantage of the opportunity to get what you need. Welcome to our website, and we invite all customers to visit our factory in China."
About RFcnn.com
RFcnn.com is an online shop of Zhenjiang Fourstar Electronics Co. LTD, which is a China based company that aims to provide customers with high quality products at the lowest possible prices. Customers can try the company's products through sample orders with a long-term contract. Most customers come back soon after receiving their first deals.
More details about the company's high quality connectors can be found at http://www.rfcnn.com/RF-Adaptors.html.