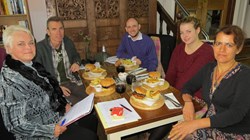 Norwich, Norfolk (PRWEB UK) 5 November 2013
Set up by Lucy McCarraher, a novelist and self-help author, Rethink Press has had an incredibly successful 18 months, having published 25 niche titles – including fiction, self-help, business books, travel, cookery and poetry. It has just become the publishing partner of the Key Person of Influence (KPI) Programme (1).
The international New Novels Competition gives two new fiction authors a chance to get their novels published in paperback and e-book format, and benefit from the publicity and marketing experience of the Rethink team. Ten shortlisted entries will receive feedback from the judging panel and a coaching session with Lucy.
Lucy McCarraher's first novel, 'Blood and Water,' was published by Macmillan after she entered the Richard and Judy 'How to be published' competition in 2004. She loves giving other writers the chance to get their novels in print and is looking forward to discovering some exciting new talent.
Lucy says: "Last year we found three amazing novelists and have been privileged to work with them to get their books published. James Ferron Anderson's literary romance, 'The River And The Sea,' has received wonderful reviews; Angela Lawrence is much in demand as a speaker on her WW1 true story, 'Rumour'; and Keri Beevis' campus murder story, 'Dead Letter Day,' has been a runaway best-seller – we're looking forward to publishing the sequel."
To help competition entrants, and all aspiring novelists, Rethink Press has published Lucy's own book, 'How To Write Fiction Without The Fuss,' which is based on her extraordinarily popular online fiction-writing course on http://www.howtowritebetter.net. The book is also launched today and gives writers tips on plot structure, characters, setting, theme, writing style and formatting manuscripts – as well as grammar and punctuation.
Sarah Bower, author of the international bestseller 'Sins of the House of Borgia,' and 'The Needle In The Blood,' said, "Lucy McCarraher has distilled all her common sense, wisdom and experience into a concise, readable and practical guide to anyone embarking on the daunting and terrifying task of writing a novel. Not only do I appreciate the book as a novelist, but am also inclined to steal her ideas wholesale as a Creative Writing teacher!"
The other New Novels Competition judges are Norfolk novelist Amanda Addison; James Ferron Anderson, last year's novel competition winner; Sam Ruddock, literary blogger and programme manager at the Writers' Centre Norwich(2); and Rowan Whiteside, also from Writers' Centre Norwich and bookseller at Waterstone's, Norwich.
The final date for entries to the Rethink Press New Novels 2014 Competition is 31st January 2014. To find out more and enter the competition, visit http://rethinkpress.com/new-novels-competition-2014.
To buy a paperback or Kindle version of How To Write Fiction Without The Fuss, visit http://rethinkpress.com/books/how-to-write-fiction-without-the-fuss.
ENDS
NOTES
1. Key Person of Influence (http://www.keypersonofinfluence.com/uk/)
2. The Writer's Centre Norwich (http://www.writerscentrenorwich.org.uk/)
ABOUT RETHINK PRESS
Rethink Press is an independent publisher based in Norfolk; it is affiliated to established print-on-demand publisher, Bookshaker, and is the Publishing Partner of KPI (Key Person of Influence). Rethink Press offers professional author services and supported publishing to authors of all good books. For testimonials from Rethink authors, see http://www.pinterest.com/rethinkpress/testimonials-rethink-press/.
Lucy McCarraher is Managing Editor of Rethink Press and Commissioning Editor of Bookshaker. She has written three novels (Blood and Water, Kindred Spirits and Mr Mikey's Ladies) and four self-help books, including How To Write Fiction Without The Fuss.
For more information and an interview with Lucy McCarraher, contact her.